After Democrat Governor Locks Down Michigan – Petition Of 200,000 Calls For Her To Be Removed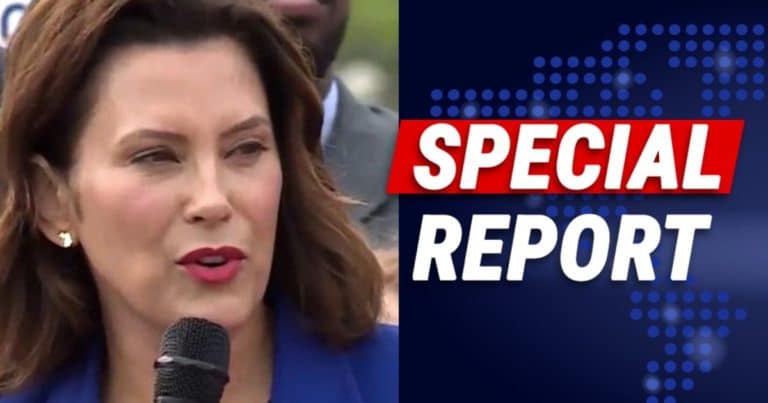 A new petition is picking up steam—and it's not looking good for Michigan's governor.
Democrat Gretchen Whitmer has been under fire from her state, thanks to her virus response. As other states implemented moderate shutdown rules, this politician forbade citizens from visiting family!
Now, the woman who has been floated as a vice-president candidate could be packing her bags soon.
From Breitbart:
Michigan citizens have been flooding a petition at Change.org calling for the removal of Governor Gretchen Whitmer, accusing her of gross negligence and failures in handling the coronavirus pandemic…

In just the 24-hour period between Monday and Tuesday, the petition garnered more than 50,000 new signatures as citizens rush to express their displeasure with the governor, bringing the total number of signatories past the 200,000 mark.
Ouch. Because of her "gross negligence and failures," Michigan residents are signing a petition to remove Whitmer from office.
In fact, after only a few days the petition has received over 200,000 signatures.
That's not great for her, my friends. During the same period of time, we've seen Trump's approval rise. A crisis is a perfect time to see our leaders shine.
How Americans react to their local leaders right now tells us a lot about how good they are.
New York seems relatively happy with their governor (not NYC's mayor). Americans are approving of Trump's strong leadership.
But Michigan? Oh boy, are they not happy! Probably has to do with her telling them they can't even visit family or friends during this pandemic.
Um, excuse me, but where does it say in the Constitution that any leader can force Americans to stay inside? Especially when Michigan's numbers are not nearly as high as other states.
It's one thing to ban large gatherings and doom businesses. It's a very different thing to say Americans can't leave their homes to visit family members!
I think that has something to do with this petition.
During the crisis, we've seen Democrat leaders trample all over our liberties. Virus or not, many will question for years to come the steps liberal governors took to "protect" us.
Should a governor have the power to lock you up in your homes? If that's the case, should governors prevent free Americans from doing anything they deem bad?
That's a slippery slope, my friend. One I know few Americans are willing to take.
SHARE if you support this petition to remove Whitmer from office.
Source: Breitbart