Michigan Democrat Whitmer Should Be Getting Concerned – Resolution To Impeach Her Just Got A Boost From County Board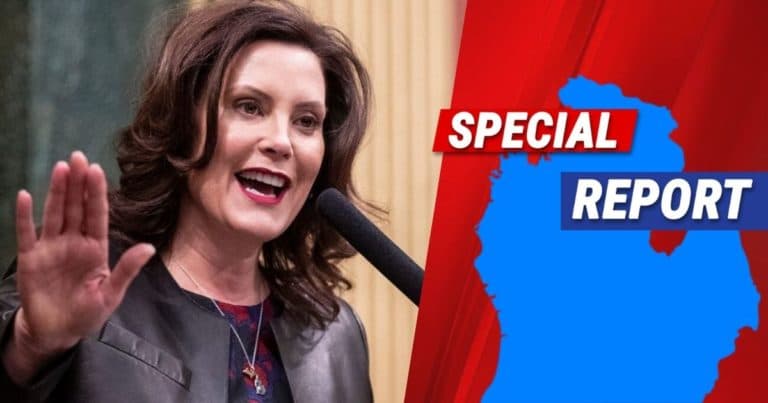 What's Happening:
Democrat Governor Gretchen Whitmer just can't seem to keep herself out of trouble these days. Unlike most states trying to keep a cautious balance between health restrictions and Constitutional freedoms, Whitmer seems more than happy to just shut everyone's lives down.
And her actions are starting to backfire on her in a big way.
Whitmer just got blindsided not just by Republicans in her House, but by a full county board. From Fox News:
A county in northern Michigan threw its support behind a resolution put forward by three Republican members of Michigan's House of Representatives calling for the impeachment of Gov. Gretchen Whitmer last week.

Republican Representatives Beau LaFave, Matt Maddock and Daire Rendon issued the impeachment resolution and claimed the governor was guilty of "corrupt conduct in office and crimes and misdemeanors" after the new guidelines were announced Wednesday.
Whitmer has signed a slew of executive orders closing down non-essential businesses and relegating education to remote learning.
Her state's regulations were among the most draconian and strict in the early days back in April, but she is once again shutting down her state heading into the holiday season. Indoor dining has been closed and both colleges and high schools are back online.
People shouldn't be surprised if Michigan sees an exodus of its citizens to the neighboring Republican-led states of Indiana and Ohio.
How long to the government elite expect average Americans to put up with executive orders from on high, while leaders are often caught breaking their own rules?
Time will tell, but for now, it looks like Whitmer's job could be coming to a premature ending. Maybe that will give Republicans a chance to get Michigan back into shape.
Do you think Governor Whitmer should be impeached?
Key Takeaways:
A Michigan county supports a resolution to impeach Governor Whitmer.
Resistance to her lockdown orders is growing after she shut down indoor dining and higher education going into the holidays.
Source: Fox News