New 2022 Midterm Poll Shakes the Nation – Across the Country, Battleground States Now Have a Clear Leader: The GOP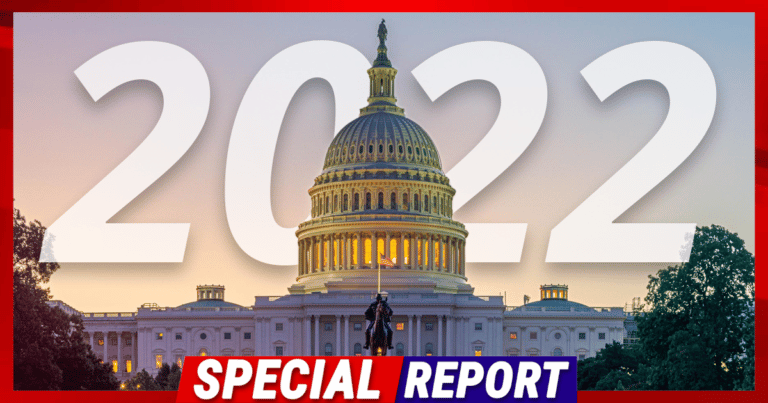 What's Happening:
For over a year, we've seen Republicans beating Democrats in generic, 2022 polls. But suddenly, just months before the election, those numbers appeared to flip.
The liberal media would have you believe those "evil" Republicans are on the outs. Voters are sure to ditch "MAGA" candidates–in favor of the failed socialist policies that have sunk our economy.
But a new poll from ABC News will have Democrats rushing for their anxiety meds.
From the New York Sun:
Hold on to your hats for this one: An ABC News/Washington Post poll of registered voters shows that Republicans are 21 points up against Democrats in battleground districts across the country…

Looking at just races rated at least somewhat competitive by ABC's FiveThirtyEight model, voters favor GOP candidates 55 percent to 34 percent.
Dang. Democrats might be in very big trouble, come November. This poll is looking at registered voters in "background" districts.
These voters favor Republicans over Democrats by a staggering 21 points. That's well beyond the margin of error.
(And that's not even taking into account "silent" Republicans. The gap could be wider.)
These are deep red districts in Texas or Oklahoma. These are competitive battleground districts Democrats need to win–to keep their majority.
The crux of this poll is the key issues for voters. Republicans are winning in three of those four.
Republicans are beating Democrats on the economy by 16 points, inflation by 19 points, and crime by 14 points.
Democrats only have an edge on education, and by just 6 points–not a strong lead.
This puts the latest poll numbers in the Fetterman-Oz race into sharp perspective.
From Fox 29:
A New Insider Advantage/FOX 29 Philadelphia poll shows Democratic nominee John Fetterman leading Dr. Mehmet Oz by a narrow margin in Pennsylvania's U.S. Senate Race.

The poll, which surveyed 550 likely voters, shows just how tight the race is between the top two candidates with just a few weeks left before election day on Nov. 8. The poll has a margin of error of 4.2%
Fetterman is beating Oz by 45%–with a 4.2% margin of error. Meaning, Oz is effectively tied with Fetterman, in a race everyone in the media is expecting the Democrat to carry.
And that's just one race. In other districts, Republicans might win by blowout numbers.
It seems all that MAGA bashing didn't do a lick of good.
Key Takeaways:
A new poll shows Republicans leading in battleground districts by 21 points.
GOP candidates are beating Democrats on three out of four top issues.
This comes after Biden called MAGA candidates "threats to democracy."
Source: The New York Sun, Fox 29