Donald Takes $11.9B Away From Greedy Dems, Delivers It To 1 Midwest State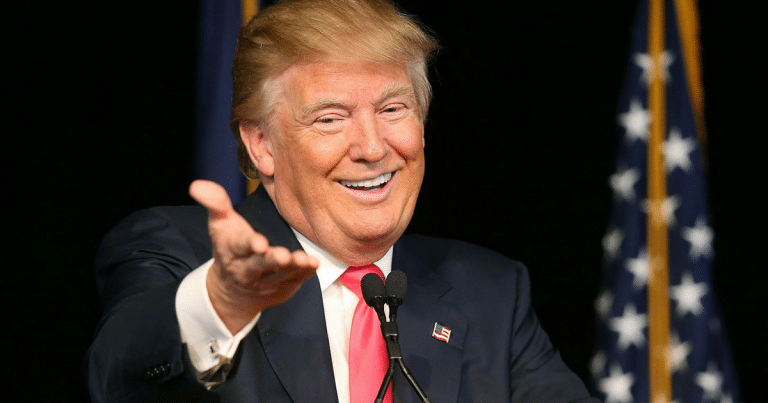 President Trump continues to make good on his word. Already he's shrunken the size of government. He's slashed costly regulations. And he's given Americans historic tax cuts.
It's no secret that many American corporations have struggled. In recent years, they've been unable to give their workers raises or bonuses.
That had a lot to do with costly and burdensome government interference. But that all seems to be changing.
Thanks to Trump, 50,000 American workers in one particular midwest state have something to smile about. It clocks in at around $11.9 billion.
From Detroit News:
General Motors Co. will pay about 50,000 United Auto Workers hourly employees profit-sharing checks of up to $11,750 this year, the company said Tuesday.
The Detroit automaker, which lost $3.9 billion last year, announced profit-sharing as part of its full 2017 earnings report. Before taxes, GM made $12.8 billion on $145.6 billion in revenue. Its pre-tax profits in North America totaled $11.9 billion, and that's the figure profit-sharing is based on.
Ford Motor Co. and Fiat Chrysler Automobiles NV announced profit-sharing amounts last month. Ford will give more than 54,000 UAW workers about $7,500 each. FCA will pay 40,000 workers about $5,500 — on top of $2,000 bonuses the automaker said it will pay all employees as a result of the tax overhaul passed by Congress.
We said, again and again, that more good news would come from the tax cuts. Every week another company announces huge positive changes, thanks to the tax bill. They are giving employees bonuses, pay raises, and retirement contributions. Hostess is even giving them free snacks. Now GM is dishing out huge profit-sharing checks.
Imagine getting a check for $11,750! That's real money, folks. The kind of money that could turn around a family's finances. So much for the "crumbs," eh Pelosi?
There is a reason Democrats were so opposed to these cuts. They claimed that, should companies save money on taxes, they'd keep it for themselves. Liberals wanted you to believe that rich business owners would horde the money. That they'd never give back to their employees. After all, rich people are all totally greedy and evil.
Apparently, Liberals think the rich are as evil as they are!
Turns out, businesses are falling over themselves to give back. They are disproving every nasty thing Democrats have ever said about them. Thanks to the major tax cuts by the GOP, they can reward their employees and expand their businesses. That means more jobs and opportunities for Americans.
The Democrats will have a hard time explaining why they opposed this.
Source: Detroit News