After 'Million MAGA' Marches On Washington – Video Shows Thousands Break Out In Singing The Star-Spangled Banner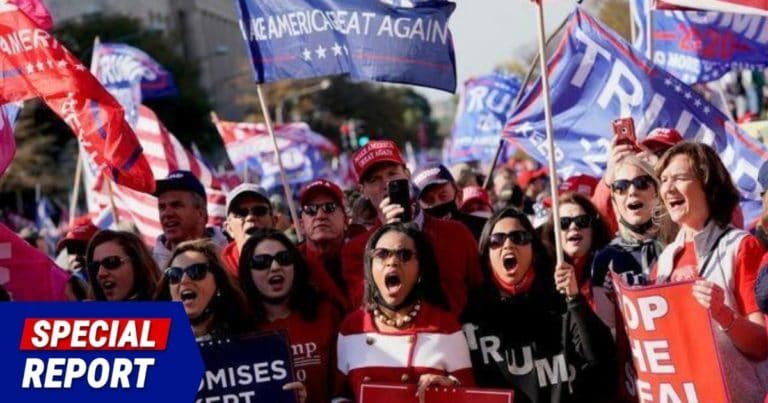 What's Happening:
The presidential election still hangs in the balance in the courts according to President Trump. But the media wants you to believe it's all been decided… by them.
Some think the press is trying to discourage conservatives from demanding an open and transparent election. A few Republicans have thrown in the towel, but not Trump nor his millions of supporters.
In fact, Trump supporters from across the country descended on the Washington swamp to tell them exactly what they think of this election.
And in a historic, moving moment, thousands broke into song. It is something you've probably never seen before and might never see again:
Thousands of Trump supporters sing the "Star Spangled Banner" in unison. pic.twitter.com/Dm30sGGPv0

— Savanah Hernandez (@sav_says_) November 14, 2020
At one point, the patriotism that was almost tangible in the Million MAGA March overflowed into a spontaneous rendition of "The Star-Spangled Banner."
Videos captured the moment when thousands of peaceful protesters (real ones) broke into a spontaneous rendition of the Star-Spangled Banner.
The moment revealed the powerful patriotism and devotion millions of Trump supporters have for this country. They love America and they don't want to see it ruined by possible fraud and wrongdoing.
Notice the shocking contrast between this gathering and the many "gatherings" seen in cities over this year.
The people liberals and the media praise have spread nothing but destruction, claiming America is "evil" and "corrupt."
But the people the left calls "deplorables" and "chumps" gather together to celebrate this country and sing out National Anthem.
Has there ever been a stronger example of the differences between these two groups and movements?
One seems to want to start America from scratch. The other only wants to protect and preserve what America has stood up for since 1776.
The results of the election might not be known for more days or weeks to come. The media will spin everything to their advantage—and court battles and challenges are still pending.
But one thing is clear: the D.C. swamp should be shaking in its boots tonight after what it saw!
Do you want Trump to serve another four years in office?
Key Takeaways:
Thousands gathered to peacefully protest the election in D.C.
This group of patriots broke out into song, singing the National Anthem.
The battle over the results of the election continues in the courts.
Source: Western Journal