Trump Tries To Hold Large Minnesota Rally – But He's Forced To Restrict The Event Down To Only 250 People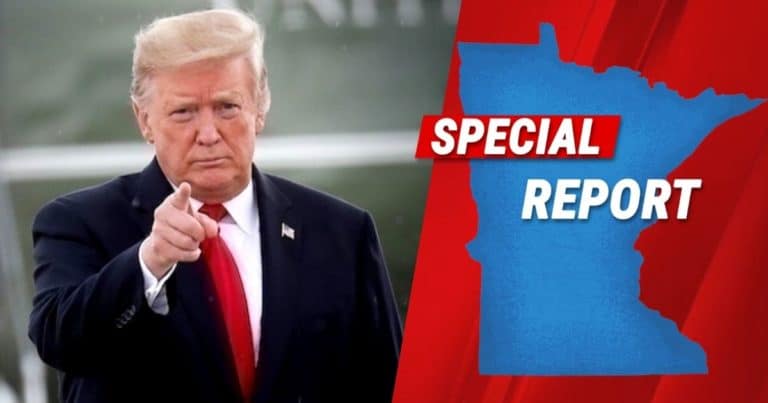 What's Happening:
Democrats are panicking as they watch a rising red tide hit this November. Trump is going after Democrats' own backyard by fighting for Minnesota.
Riots and bad leadership have left the blue state up for grabs and Trump planned a mega rally that 25,000+ attendees sought to attend as he makes a final push towards election day. Biden has to scramble to get out there and host his own event.
But what happened to Trump's plans? Well they were interrupted by statewide rules of gatherings limited to 250 people only.
Here's Trump's tweet on it:
Keith Ellison Restricts Freedom of Assembly of Political Opponents via @BreitbartNews We were planning for as many as 25,000 people in Minnesota. Now the Governor, at the last moment, will only allow the first 250 people to attend. Riots plus Omar = WIN!
And more from Breitbart:
"Thanks to the free speech-stifling dictates of Gov. Tim Walz and Attorney General Keith Ellison, only the first 250 people will be admitted," the campaign said in a statement sent late Thursday night.
So what did Trump do? He moved the event back to the airport and still held the rally, though it was capped officially to only the first 250 attendees. But that didn't stop an overflow crowd from forming that Trump claims was over a thousand people.
I know that these rules were implemented to help stop the spread in large crowds. But it does make you wonder, does Ellison think this will help stop voters from backing Trump? In fact, this will only outrage Minnesota residents, who will feel Democrats are trying to suppress their free speech and right to peacefully assemble.
Remember, Minnesota was ground zero for the summer's riots. We didn't see many Democrat really do that much to get in the way of countless people causing trouble.
If you ask me, I think it took the efforts of Trump and the federal government to restore the peace.
We know Joe Biden won't have trouble following this big gatherings rule. I bet he can't even get 250 people even on a good day!
Meanwhile, Trump will most-likely get millions watching his event online across all platforms. In fact, Ellison's move might put even more attention on the event, sparking a greater outpouring of support.
Key Takeaways:
Far-left AG Keith Ellison's rule is restricting a Minnesota Trump rally to a 250 attendance rule.
Over 25,000 people sought to attend.
Trump moved the rally back to the airport