Trump-Fan Miss Michigan Stripped Of Her Crown – She's Being Censored For Free Speech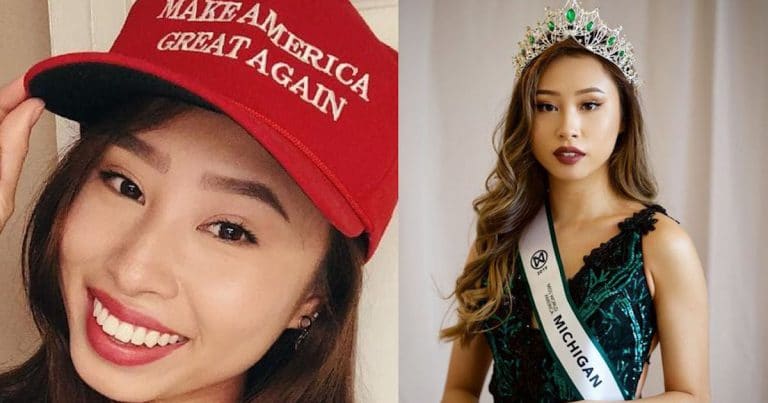 Last time I checked, this is still a free country.
Furthermore, simply stating facts or asking legitimate questions in a public forum should be encouraged, not punished.
Kathy Zhu is an outspoken and beautiful young woman who was recently named Miss Michigan.
…unfortunately, she's also a conservative, a Christian, and a Donald Trump supporter.
An amazing combination, right?
Apparently, this means she's not entitled to the same rights as other Americans, like freedom of speech and freedom of expression.
Because when Zhu revealed on Twitter that an Islamic woman tried to force her to wear a hijab, the media jumped on it.
And guess what happened?
Via TownHall:
"Conservative, Trump-supporting Miss Michigan, Kathy Zhu, was stripped of her crown on Thursday.

According to the Miss World America (MWA) pageant, Zhu had her title revoked because her 'social media accounts contain offensive, insensitive and inappropriate content.'"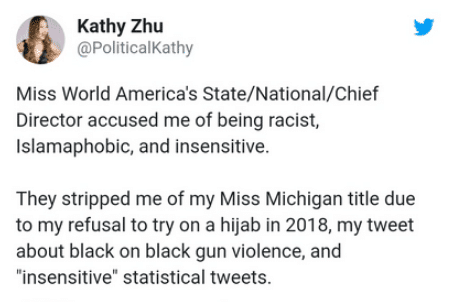 "Miss world America's State/National/Chief Director accused me of being racist, Islamophobic, and insensitive."
Because she refused to wear that hijab, and also due to her comments about African-American violence, Zhu lost her crown.
The former Miss Michigan didn't take this lying down, though.
She quickly wrote up a reply and sent it back; that letter in part reads:
"A muslim woman tried to FORCIBLY put a hijab on my head without my permission. I tweeted about it on my social media account, and it got the attention of the media.

Almost everyone was supportive of me refusing to be put in that situation.

Are the people in the MWA implying that they advocate for the punishment of women who refuse to wear a hijab?"
As for the other "insensitive tweet," Zhu simply said that the majority of African-American deaths are caused by other African-Americans, which is a verifiable fact.
But again, she's not entitled to our freedoms … because she's not a liberal.
That's what it looks like, doesn't it?
This is getting out of control.
Now we're stripping people of titles simply because they're standing up for their own beliefs.
Nowhere do I see insulting or insensitive tweets from Ms. Zhu.
Hypocrisy and double standards, as far as the eye can see. There's just no other way to describe it.
Do you think Kathy Zhu should get her Miss Michigan title back? Let us know in the comments below!
Source: TownHall