Mitch McConnell Could Be In Trouble Already – Sean Hannity Calls For Senate Republicans To Replace Him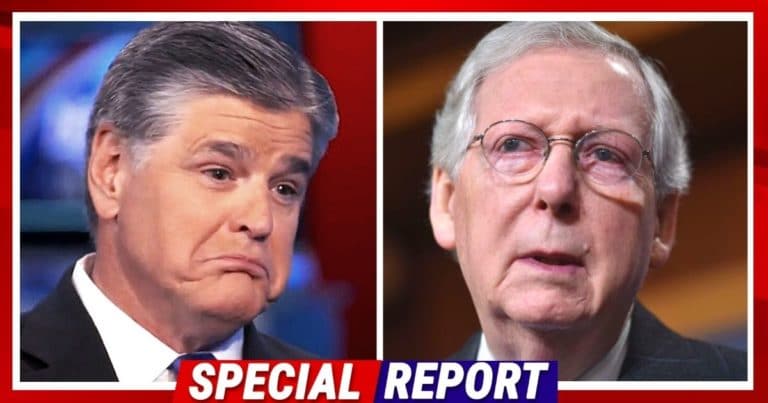 What's Happening:
For four years Mitch McConnell was a faithful Trump ally. Then suddenly, he threw the president under the bus.
McConnell opposed increasing relief payments to Americans, something Trump himself requested. Some think that handed the Georgia elections to the left.
He went even further, by trying to prevent senators from challenging the election. And he accused Trump of inciting the events of January 6. Plus, he appears to be supporting the second impeachment (which might not even be constitutional).
So, Sean Hannity has some hard words for the former majority leader. From Daily Caller:
Fox News' Sean Hannity said Tuesday that the U.S. Senate needs "new leadership" and called on Senate Majority Leader Mitch McConnell to step down from his position as leader of the Republicans in the Senate.

Hannity directed the opening monologue of "Hannity" at McConnell and criticized him for his inconsistency in supporting President Donald Trump, as well as trying to reassert establishment control over the Republican Party.
Hannity called for someone new to replace Mitch McConnell as the leader of the Republicans in the Senate.
He even demanded old Mitch to step down as leader, so someone else could better unite the party.
The Fox News host accused McConnell of trying to "re-establish" the "establishment wing" of the Republican Party. He hammered Mitch over his comments against President Trump, whom he helped reshape the courts in the last four years.
Hannity reminded McConnell Americans picked Trump to be president over other "establishment Republicans." Twice the party nominated Trump and not insider politicians.
Yet McConnell ignores all that to embrace what many consider to be the D.C. swamp. Not great, Mitch, not great.
It wouldn't be a stretch to say many Republicans agree with Hannity. They don't want more establishment types running the GOP. Even with Trump out of office, they want leaders who respect and support their views, not the swamp's.
Will McConnell figure that out?
Key Takeaways:
Fox News' Sean Hannity called for Mitch McConnell to step down as GOP Senate head.
He accused the senator of throwing Trump under the bus and ignoring the will of the party.
Hannity wants "new leadership" for the Republican Party.
Source: Daily Caller