Mitt Romney Makes Trump Train Prediction – He Claims There Will Be A Landslide If Donald Decides To Run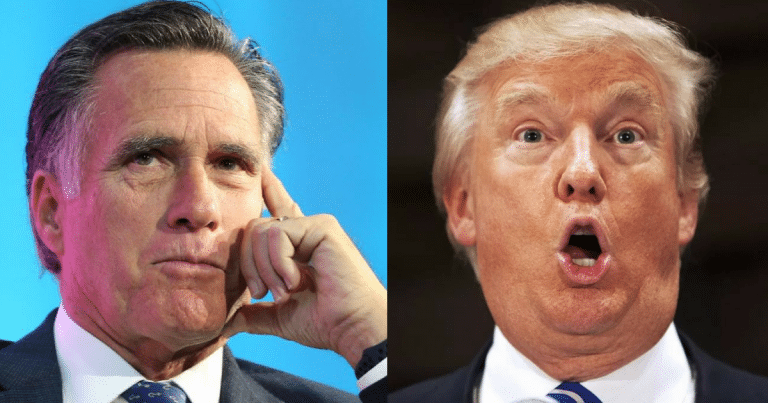 What's Happening:
Mitt Romney has not been a good friend to Donald Trump. He only appears to say nice things about the former president when he needed something from him.
(After all, Romney jumped on the Trump train back when he wanted to win his own election.)
Since then, however, he frequently criticized Trump. He even voted against him during both impeachment trials. His attacks have sparked heavy backlash back home in Utah.
It seems many voters aren't happy with him. But they might be surprised to discover what Romney is saying about Trump's future.
From Fox News:
Sen. Mitt Romney, R-Utah, said in an interview Tuesday that if former President Trump were to run again in 2024 he would likely win the Republican nomination…

Romney noted that he's not always good at making predictions and "a lot can happen between now and 2024," but he said in recent polls comparing Trump to other potential Republican candidates, "he wins in a landslide."
Romney said that if Trump ran for president in 2024, he'd win the Republican nomination in a landslide.
He's not using any psychic powers to make that prediction, though. Trump is far and away the favorite among Republicans right now.
Recent polls reveal Trump is the most-liked Republican in the party, by a large margin. His approval only rose since the impeachment nonsense.
And among possible 2024 candidates, Trump has dominated. He enjoys a double-digit lead over anyone else.
But while Romney is saying Trump would win the nomination "by a landslide," he's not personally endorsing him.
Many wonder what Romney really thinks about Trump. Is he jealous Trump won where he had lost? Or is Romney simply a Republican in name only?
Would Romney support another Trump administration? In 2020, Romney said he thought Trump would win, but did not say who he was voting for.
Time and again, Republicans have to wonder where Romney's loyalties lie. He often says things that might make conservatives happy. But his actions often tell another story.
After all, Romney was all too happy voting against Trump. Does he really want the MAGA movement back?
Key Takeaways:
Romney admitted if Trump ran in 2024, he would win by a "landslide."
The senator is referencing polls that show Trump in a potential lead.
Romney has long been a fair-weathered ally of the former president.
Source: Fox News