Months After Dems Bragged About 2 Cent Gas Drop – Joe's Gas Prices Spike to New Record High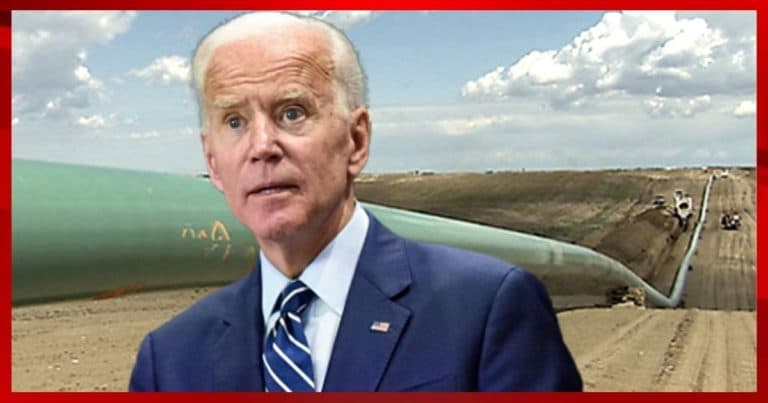 What's Happening:
We all know the gas crisis was caused by the Biden administration. He might be blaming Putin, but we know the truth.
His administration reversed Trump's pro-energy agenda. And the severe limits Biden set on oil companies triggered this runaway crisis.
Months ago, Biden depleted our strategic oil reserve to "fix" the problem. Then he bragged that gas dropped two cents.
INSERT TWEET
Pathetic. But even that flex was pointless. Because now, as we enter summer, the national average is higher than ever.
From Townhall:
Yet again on Thursday, the national average price for a gallon of unleaded gas set a new all-time high at $4.715…

Now, six months after Democrats were thanking Joe Biden for a two-cent savings at the pump, gas is up $1.337 per gallon. Thursday's record-setting average price is more than a dollar more than the top of the chart the DCCC used to make its claim.
In some states, gas prices are higher than the hourly minimum wage.
From Townhall:
According to GasBuddy, there are 15 stations where gas costs more than $7.25
Didn't Biden promise to "build back better"? I guess not our energy sector, huh? (Or the border, jobs, economy, inflation, or foreign affairs.)
Gas prices are reaching record highs. The national average is a staggering $4.715. But that is only part of the picture.
The average in some states is much higher. In Illinois, it's $5.262. In California, it's $6.213. Some gas stations, depending on local fees and taxes, have prices higher than the federal minimum wage.
Can Biden still blame Putin with a straight face? This is largely thanks to a variety of policies his Energy Department enacted.
Biden banned drilling for oil on federal land. Even after court decisions, he still refuses to lease the land.
On top of that, he implemented harsh emission and refining fees and regulations, increasing the cost companies must spend to provide energy to consumers.
The sanctions on Russia were only the straws that broke the camel's back. If we had the same policies from Trump, those sanctions would have hardly done a thing.
Meanwhile, Biden's Energy Department does nothing. Its head literally laughed at a reporter when asked about fixing gas prices.
Biden and his administration are in the hands of radical environmentalists. The last thing they'll do is lower gas prices.
Key Takeaways:
Biden once bragged about lowering gas prices by 2 cents.
Gas prices are now higher than ever, the average being $4.715
At some stations, gas costs more than the minimum wage.
Source: Twitter, Townhall, Townhall