After Rioters Destroy Monuments Across Nation – Governor Says Mount Rushmore Will Be Protected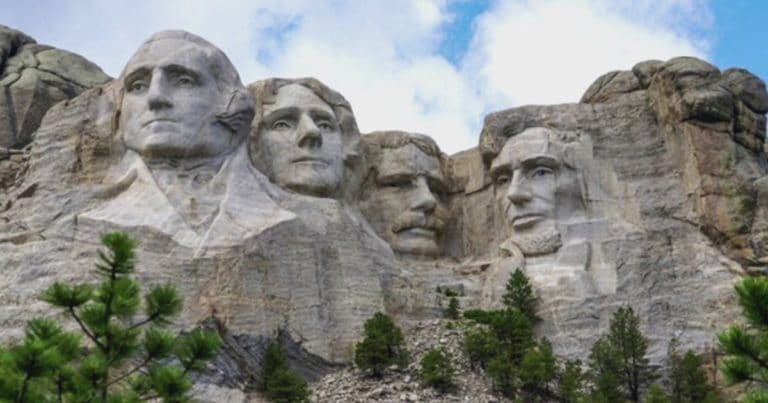 Protesters and rioters have taken offense to many historical monuments across the country, defacing many and tearing some down.
So South Dakota Governor Kristi Noem has something to say about the legendary Mount Rushmore.
After conservative host Ben Shapiro quipped that Mt. Rushmore could be the "next target of the woke historical revisionist priesthood," Noem felt she had to respond.
The massive sculpture, featuring the faces of Presidents Thomas Jefferson, Theodore Roosevelt, Abraham Lincoln and George Washington, won't be touched.
As Noem said in her tweet responding to Shapiro: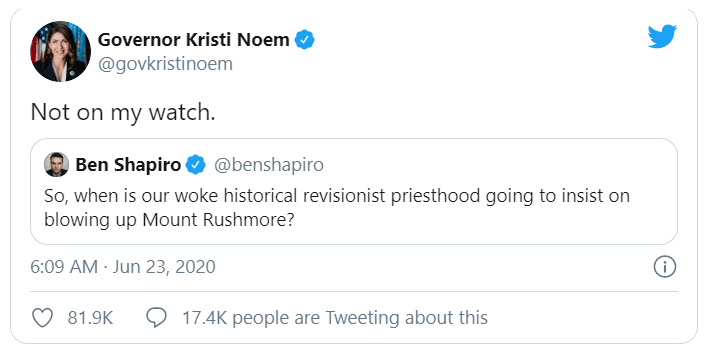 Not on my watch.
To be clear, there is currently no evidence that protesters want to deface Mount Rushmore. Shapiro and Noem are simply talking hypothetically.
However, Gov. Noem told "Fox & Friends" that she doesn't believe all these attacks on monuments are about equality:
This is no longer about equality.

This is a radical rewriting of our history and in South Dakota we won't stand for it.
Questions linger about how we should view America's past, and whether or not certain symbols – like the Confederate Flag – should be allowed to remain.
But Noem and other politicians believe there's more to the question than race and politics.
As she added during the interview:
The more we focus on the flaws of these men that are on our mountain, the less likely we are to recognize the virtues and the lessons we can learn from their lives.
She finished by saying they will ensure that "Mount Rushmore stays as majestic as it is today," and they will be "diligent" about protecting it.
In conclusion, it appears that even history remains a hot-button issue in America.
Key Takeaways:
South Dakota Governor Kristi Noem said Mount Rushmore will be protected.
Though there has been no threats made against the monument, the assault on other historical monuments could be cause for concern.
Noem believes the defacing of such monuments isn't about equality. And she doesn't support "radical rewriting of our history."
Source: Fox News