After 'Mr. No' Tries To Stop $2T Relief Bill – Trump And Congress Team Up To Get The Bill Passed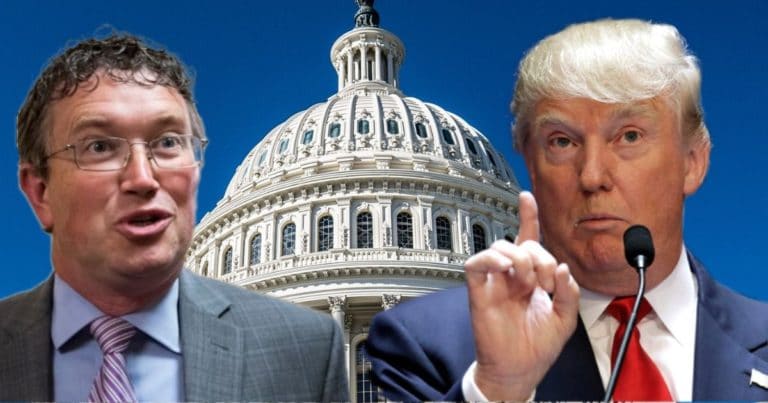 Republicans and Democrats actually got together to craft the biggest relief bill in American history.
This stimulus package would provide help, not only for big and small businesses, but workers stuck at home.
It was passed in the Senate earlier in the week, moving to the House today. But whether or not it would pass was a big question.
With so many lawmakers at home, they were going to do a "voice vote." But one Republican, nicknamed "Mr. No" (for how often he votes no) planned to block this entire process.
President Trump himself laid into him.
From Twitter: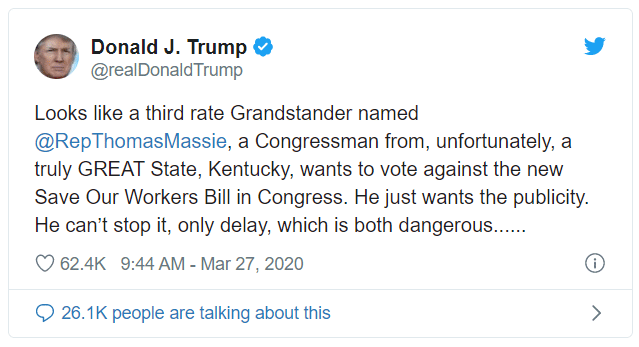 Looks like a third rate Grandstander named @RepThomasMassie, a Congressman from, unfortunately, a truly GREAT State, Kentucky, wants to vote against the new Save Our Workers Bill in Congress. He just wants the publicity. He can't stop it, only delay, which is both dangerous……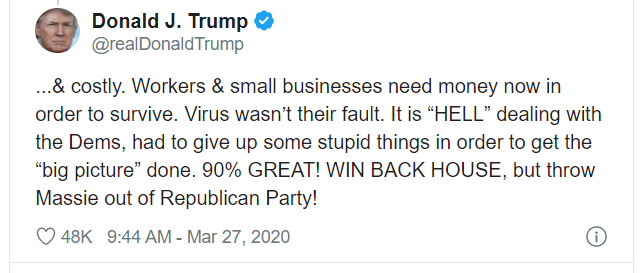 …& costly. Workers & small businesses need money now in order to survive. Virus wasn't their fault. It is "HELL" dealing with the Dems, had to give up some stupid things in order to get the "big picture" done. 90% GREAT! WIN BACK HOUSE, but throw Massie out of Republican Party!
Wow. Strong words from Trump, indeed. He called out Massie for "grandstanding," by trying to prevent this bill from passing.
He condemned the man's meddling, going as far as to say he should be thrown out of the Republican Party.
Honestly, we've had to put up with so much crap during this situation. Democrats almost shoved decades of liberal garbage into this bill.
It was practically a miracle that all senators voted to pass it. And one guy thought he could mess this whole thing up?
(Just look at how the markets reacted to Mr. No's bull crap today.)
But the good news is, we now know how this all played out. After (yet another) day of uncertainty, the House fought back against Massie.
And they succeeded.
From Fox News:
The House of Representatives on Friday overwhelmingly approved a more than $2 trillion package to combat the coronavirus pandemic and send economic relief to workers and businesses squeezed by restrictions meant to stop the outbreak's spread…

The bill, already approved by the Senate, now goes to President Trump's desk.
The House overwhelmingly approved the bill, sending it to President Trump's desk.
As he's promised for days, the president will most-likely sign this into law right away.
This law will protect businesses forced to close their doors. It will provide loans to keep paychecks rolling.
And it will provide stimulus checks to every American out of work, right now.
Finally, Americans have something to look forward to.
SHARE to thank Trump and Congress for putting Americans first.