MTG Trolls Biden with a Special Prop – The GOP Firebrand Shows Up in D.C. Holding a White Balloon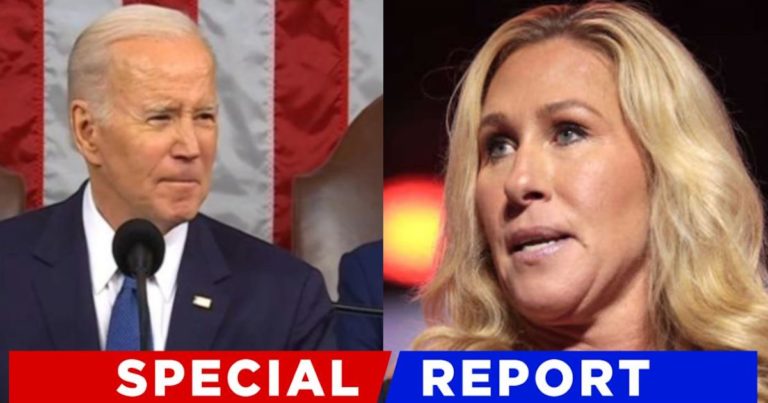 Last night's State of the Union address was controversial for several reasons, as critics lambasted President Joe Biden for painting a misleadingly rosy picture of America.
They also say Biden refuses to accept any blame for serious issues, such as national security. The latter topic exploded into the spotlight last week with the Chinese spy balloon story.
And that's precisely what one Republican firebrand chose to focus on before Biden's SOTU.
Rep. Marjorie Taylor Greene (R-GA) is one of the most outspoken politicians on Capitol Hill, and she didn't shrink from an opportunity to mock Biden.
She showed up in Washington on Tuesday and she was carrying a little prop — one that was bound to create all sorts of reactions from both sides of the aisle.
It's just an innocent balloon… #SOTU pic.twitter.com/Q6saJYqcp8

— Rep. Marjorie Taylor Greene🇺🇸 (@RepMTG) February 7, 2023
It's just an "innocent white balloon," but of course it's taking a jab at Biden's handling of the Chinese balloon event.
She said it was the "number one thing" the President needed to address during his speech, and explained:
The American people are still extremely upset and terrified that the president of the United States allowed China to fly a spy balloon across our country.

As a matter of fact, they knew about it on Jan. 28. The president knew about it. The Pentagon knew about it.

But they allowed China to bring their spy balloon into our airspace, traverse the entire country, spying on our military at military bases, food factories, cities, our entire infrastructure before it left the country, and they finally shot it down.
The balloon in question traveled across much of the country before a U.S. fighter jet finally shot it down off the coast of South Carolina.
The Biden administration claims they couldn't take it down over American soil because of the risk to civilian lives, but some military experts say it could've been done without too much trouble.
Tensions with the communist nation of China have never been higher in recent years, and this action might create some sort of escalation.
As a result, Republicans like MTG demand answers, and they say this whole thing makes America look very weak on the world stage. They've said Biden himself makes the U.S. appear vulnerable, in fact.
The balloon incident is bound to create more questions concerning Biden's fitness to lead, and his ability to handle international dust-ups.
The Afghanistan fiasco looms large in everyone's mind when something like this comes around, and Republicans and right-wing citizens are concerned that Biden's leadership is almost nonexistent in this area.
Key Takeaways:
Rep. Marjorie Taylor Greene showed up to the Capitol with an "innocent white balloon."
She was taking a jab at Biden's handling of the Chinese spy balloon, and said "the American people are extremely upset and terrified."
Critics say it's another example of Biden's weakness, and point to other international incidents like the Afghanistan withdrawal.