Marjorie Taylor Greene Sends Biden Spinning – The Firebrand Republican Just Tried to Force an Audit on Ukraine Funds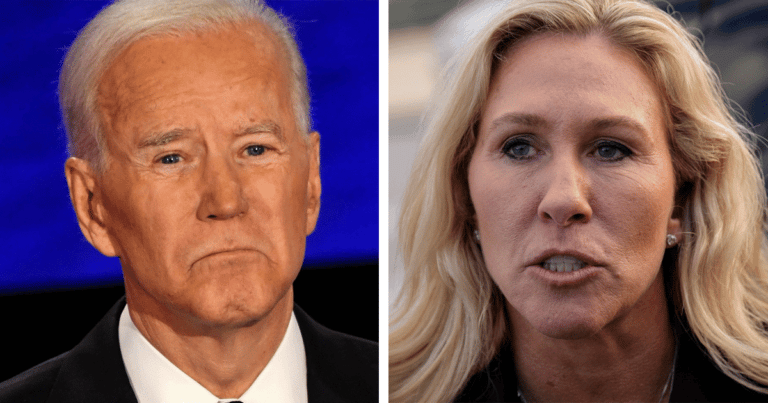 What's Happening:
All signs point to declining support for Joe Biden's endless war in Ukraine. Oh, yes, it is his war–since he's spent over $100 billion on it. Biden's done nothing to broker peace between Russia and Ukraine. Instead, he's thrown our money at the conflict, at a time when inflation and other factors are crushing American taxpayers.
More than a few people want to know why we are on the hook for another country's war. And, true to form, Biden is pledging even more billions–which will end up in the military-industrial complex's hands. And now, one GOP firebrand is demanding answers from Joe's spending spree.
From The Hill:
Rep. Marjorie Taylor Greene (R-Ga.) on Thursday said that she plans to introduce a bill to force an audit of the billions of dollars in aid that the U.S. has sent to Ukraine in its now yearlong war with Russia.

"It's going to force Congress to give the American people an audit," Greene said in an interview on "Tucker Carlson Tonight" on Thursday. "And that is exactly what the American people need, an audit of Ukraine, because we have no idea where all this money's going."
It's pretty shocking that we don't already have an audit over this war spending. Democrats love to pretend like their anti-war hippies. But it was Trump who pulled us out of wars in the Middle East and negotiated treaties. And it's been Biden who has bankrolled a war in Ukraine.
Did they think we didn't notice that? Biden's funnel billions of taxpayer dollars into a war we have nothing to do with. Everything Biden's done over this war has hurt Americans, from sanctions to endless spending.
Yet we don't know where that money is going? How is that even possible? Why is it only Marjorie Taylor Greene asking for a report on Biden's spending?
Because Democrats don't want us to bother about how they waste our money. They just want us to let them keep writing blank checks. Checks that keep going to lobbyists, special interest groups, and foreign nations.
With the House under Republican leadership, there is a chance this bill will go through. Even if it isn't signed, numerous House committees can launch investigations anyway, demanding answers from Joe and the Democrats.
Key Takeaways:
Marjorie Taylor Greene is introducing a bill to audit Biden's Ukraine spending.
Biden has spent over $100 billion on the war between Ukraine and Russia.
Biden has been bankrolling this war, with no attempts at brokering peace.
Source: The Hill