Anti-Trump Murkowski Could Be In Trouble – She Just Got A Major Challenge For Election In 2022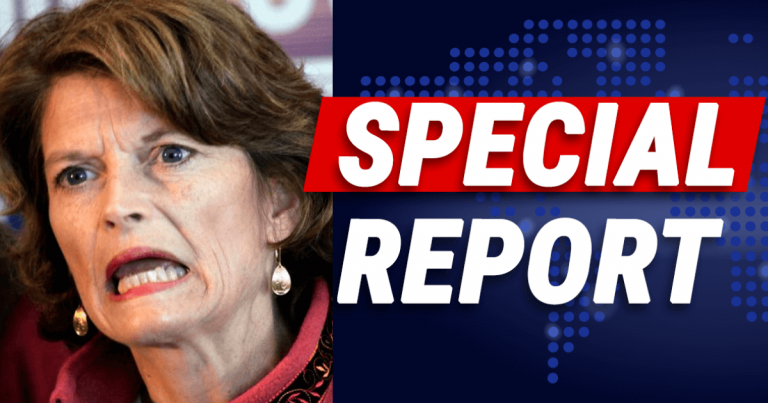 What's Happening:
Sen. Lisa Murkowski hasn't been much of a Republican star in recent years. It probably has something to do with the fact she opposed Donald Trump at every turn.
Worst of it all, she voted to convict Trump during the Democrats' bogus second impeachment trial.
The D.C. swamp might have forgiven Murkowski of her many sins. But have the people at home?
Maybe not. Plenty of Republican voters were outraged that their reps in D.C. turned on 45.
Now, we might find out just what they think, as someone is challenging Murkowski's seat.
From IJR:
Sen. Lisa Murkowski (R-Alaska) has picked up a primary challenger weeks after the state's Republican Party vowed to recruit a candidate to oppose her.

In a video released on Monday, Kelly Tshibaka said, "We know what Washington, D.C., thinks about Alaska: We're here for their benefit, and we won't put up much of a fight. After nearly 20 years in D.C., Lisa Murkowski thinks the same way."
Hi, I'm Kelly. We're going to defeat Lisa Murkowski in 2022. #AKsen pic.twitter.com/UTe4PIZlfQ

— Kelly Tshibaka (@KellyForAlaska) March 29, 2021
Kelly Tshibaka is an Alaska state official who will be running against Murkowski during the 2022 Republican primaries.
The pro-Trump, conservative candidate has called out Murkowski for repeatedly bowing to the will of the D.C. swamp and Biden administration.
She slammed the senator for doing nothing, as Biden seeks to destroy Alaskan drilling jobs.
Tshibaka also accused Murkowski of refusing to defend our border and opposing "common sense judges." She might be referring to Murkowski's actions towards Trump-appointed Supreme Court justices.
It's true that Murkowski is not popular among pro-Trump and conservative Republicans. Trump himself promised to go to Alaska in 2022 to rally for whoever challenged Murkowski.
But is Kelly Tshibaka the woman for the job? We'll have to wait and see.
There is still plenty of time between now and the primaries. We wouldn't be surprised to find several candidates fighting against a RINO like Murkowski.
Key Takeaways:
Kelly Tshibaka is running against Lisa Murkowski for the 2022 primaries.
The Republican has called out Murkowski for her "enabling of Joe Biden's" agenda.
Murkowski is not a popular figure among conservative, pro-Trump voters.
Source: IJR