Hours After Lisa Murkowski Turns On Trump – The President Endorses Anyone Else With 'A Pulse'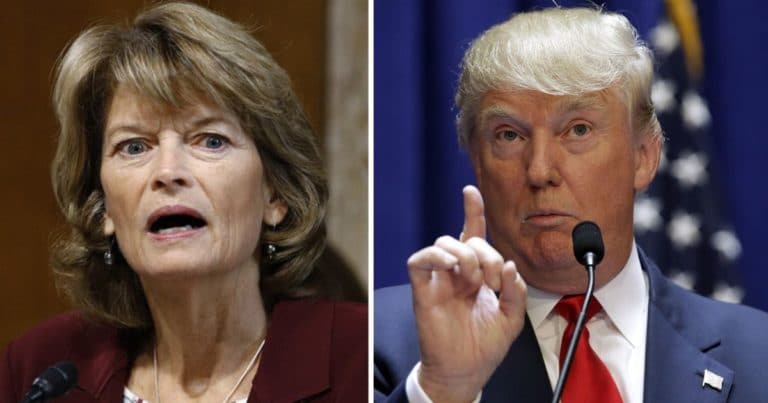 President Trump has made strong moves to keep America safe, even promising military force to end violent riots.
Mad Dog Mattis, Mitt Romney, and Lisa Murkowski (and other swamp dwellers) threw a fit. They even opposed Trump's lawful authority to restore order.
We all know what Trump thinks about those first two guys. Now, he's firing at the Alaska senator.
From Twitter:
Few people know where they'll be in two years from now, but I do, in the Great State of Alaska (which I love) campaigning against Senator Lisa Murkowski. She voted against HealthCare, Justice Kavanaugh, and much else.

…Unrelated, I gave Alaska ANWR, major highways, and more. Get any candidate ready, good or bad, I don't care, I'm endorsing. If you have a pulse, I'm with you!
President Trump declared he will be endorsing any candidate that will rival Sen. Murkowski. He said "good or bad, I don't care."
As long as they have a pulse, he will campaign for them. Trump pointed to Murkowski's long history of opposing his agenda, including voting against Brett Kavanaugh.
Our Take:
Don't think Trump is being flippant or rude in this statement. Remember, this is a man who will negotiate, with anybody.
He wrote the book on deal-making. Heck, he even sat down with North Korea. For him to call out Murkowski like this means he's done all he could to get this senator to work with him.
We can only conclude she's continued to reject his offers.
President Trump is a powerful ally and a deadly foe. It's insane to think that any Republican would still oppose his significant record.
He's stood up for conservative values again and again. For a Republican to work against him suggests they are just another globalist-loving swamp dweller.
SHARE if you want Murkowski voted out.
Source: Twitter