Muslim Releases Photo That Would Have Cost Obama The Presidency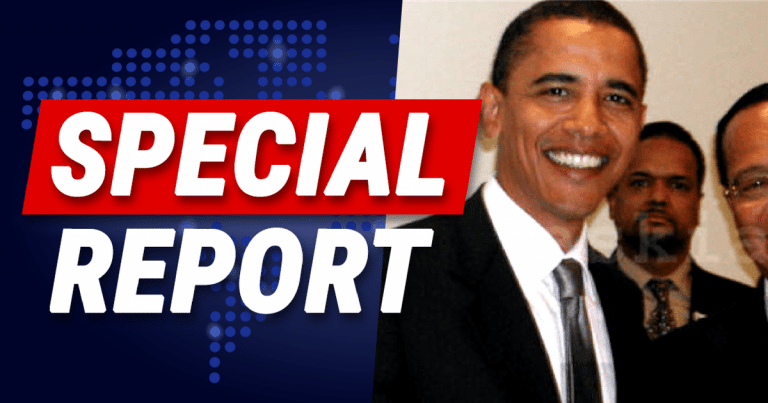 The "third-rail" refers to the part of a mass-transit system which powers the electric trains. Highly charged, if touched you get electrocuted. Dead.
In politics, it refers to a person, organization, or cause that is politically toxic. Connect an officeholder to a political third-rail, and he or she is likely to become a former-officeholder.
It has now been revealed that Mr. Obama was connected to such a third-rail. It was kept quiet because it could have ended his run for the presidency.
A Muslim has released a photo taken in 2005 of Mr. Obama with Nation of Islam head, and all-around racist, Louis Farrakhan.
A journalist announced last week that he will publish a photograph of then-Illinois Sen. Barack Obama (D) and Nation of Islam leader Louis Farrakhan that he took in 2005 at a Congressional Black Caucus meeting, but did not make public because he believed it would have "made a difference" to Obama's political future.
Lest there be any doubt as to whether there was concern that Obama had touched a third-rail, note the following. These people knew what they were doing.
The photographer, Askia Muhammad, told the Trice Edney News Wire that he "gave the picture up at the time and basically swore secrecy."
"But after the nomination was secured and all the way up until the inauguration; then for eight years after he was President, it was kept under cover," Muhammad said.
Asked whether he thought the photo's release would have affected Obama's presidential campaign, Muhammad said, "I insist. It absolutely would have made a difference."
Reached by TPM on Thursday, Muhammad said a "staff member" for the CBC [Congressional Black Caucus] contacted him "sort of in a panic" after he took the photo at a caucus meeting in 2005.

They had every reason to be in a panic over the possible publication of that photo. Farrakhan has made racist comments against Jews, Asians, and who knows who all else. He qualifies as a political third-rail. And Obama was photographed in contact.
Even out of office, Obama wants to remain distant from Mr. Farrakhan.
A spokesperson for Obama referred TPM to remarks he made in 1995 after attending the Million Man March that Farrakhan organized. At the time, Obama said that "anti-Semitic and anti-Asian statements are not going to lift us up" and said the march's organizers were lacking "a positive agenda, a coherent agenda for change."
For once, Obama was correct. His criticism of the Million Man March was valid.
The problem is whether he believed what he said, or whether it was pure political positioning for the future. Probably the latter.
This photo is an embarrassment for Mr. Obama. And hiding it for over ten years can only be called a cover-up.
It will be interesting to see what else surfaces now that Mr. Obama is out of office.
Source: Talking Points Memo