After Nadler Sends Trump Impeachment Invite – Donald Turns The Tables On Democrats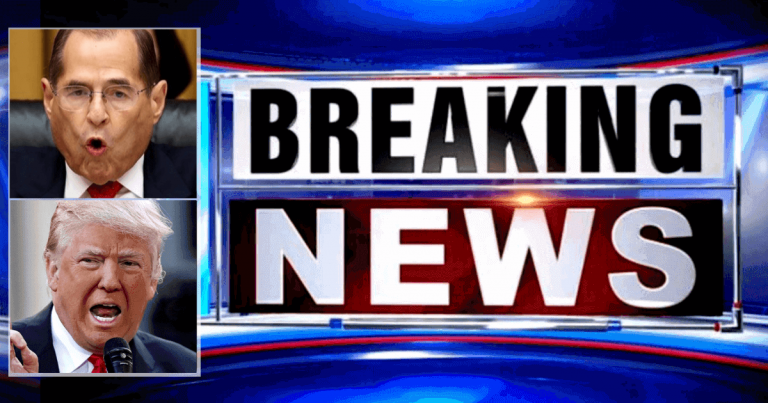 Jerry thought he could bully the President – here comes Trump!
We've to sit through months of this impeachment push. But it's far from over.
Now that Schiff's "investigation" has ended (some say in failure), it is moving to the House Judiciary Committee.
Jerry Nadler—who has been eager to impeach for a long time—will be leading his own team for an impeachment hearing.
Oddly enough, he is not bringing in any witnesses—or even White House staff. Instead, he will be hearing from "law professors," who will no doubt express their opinions.
It doesn't sound like much of a fair hearing to me.
Nadler actually invited Trump to attend this hearing. And boy, did he get an earful.
From Washington Examiner:
The Trump administration rejected Chairman Jerry Nadler's invitation to participate in Wednesday's impeachment hearing…

White House Counsel Pat Cipollone derided the "baseless and highly partisan" Democratic impeachment investigation in a five-page letter Sunday evening, claiming the effort "violates all past historical precedent, basic due process rights, and fundamental fairness."
Woah. Trump's lawyer slammed Nadler's so-called hearing, calling it baseless and highly partisan.
The Trump team is not about to let up.
He also pointed out how Nadler scheduled the meeting on the same day Trump will be in London attending a crucial NATO meeting.
I mean, really? Should the President of the United States drop an important meeting with our allies to deal with the left's partisan impeachment push?
I don't think so.
Trump's lawyer, Pat Cipollone, also cited how, during Clinton's impeachment, the House gave the president two week's notice. They also let him decide when the hearing would be held.
As usual, Nadler—like Schiff—is ignoring historical norms and common decency to take down the president.
It's getting harder and harder to believe this impeachment inquiry is unbiased and fair when the ones leading it are Democrats determined to defeat the president.
The American people have endured two months of the Democrats accusing Trump of "bribery," "quid-pro-quo," and other wild claims.
The media has all but condemned him. Yet we've seen little that convinces us that Trump is guilty.
Meanwhile, real issues are sitting on the table, collecting dust. Democrats in the House neglect problems and legislation, while they pursue their impeachment circus.
And they think this won't blowback on them?
SHARE if you stand with Trump, not impeachment Democrats.
Source: Washington Examiner