Pelosi's Kneeling Stunt Goes Wrong – Video Shows Nancy's Aide Rushing To Help Her Up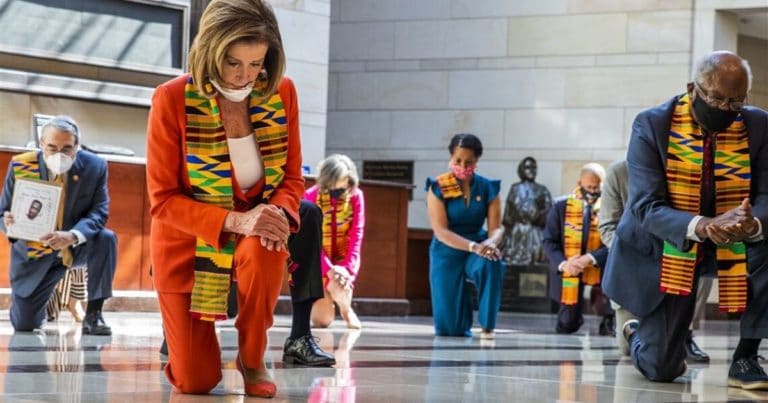 Sometimes, we wonder about the general health about our nation's leaders. Rumors constantly swirl concerning Joe Biden, for example. Is he really fit to run a country…?
And what about House Speaker Nancy Pelosi? She's no spring chicken, either.
And recently, when she took the opportunity to participate in a George Floyd photo-op, she may have given us another reason to worry.
The 79-year-old took a knee along with her congressional colleagues to pay respect fo Floyd (apparently).
But when she tried to stand, well… Just watch:
Nancy can't even stand up without assistance in this video.
Now, she quickly joked about it and blamed it on her shoes:
"It's better not to have on high heels," she said.
Okay … but was it really the high heels, Nancy? Is that the reason an aide had to help you?
It looks a lot like she didn't have the balance or energy to stand after kneeling for nearly 9 minutes.
Granted, older people will have difficulty rising after that period of time. And we're not saying there's anything physically or mentally wrong with Pelosi.
But even so, this could be viewed as solid evidence for term limits.
And it makes us worry that our leaders really are too old to continue to be leaders.
Maybe it's time for Pelosi to retire, and instead of taking photo-ops where she kneels for a long time, she can just rest.
Perhaps it's time to hang it up, Nancy!
SHARE if you think Nancy Pelosi needs to retire!
Source: Breitbart