Nancy Pelosi Caught Red-Handed in Criminal Accusation – Just Weeks After Selling Off Shares, the DOJ Launches Antitrust Suit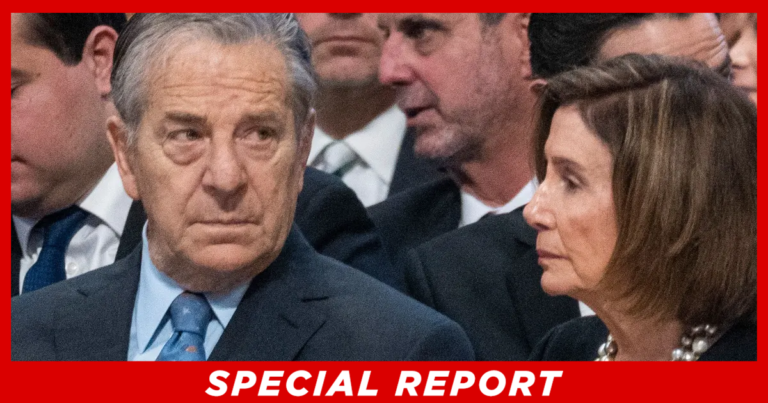 What's Happening:
Nancy Pelosi, as you might expect, considers herself nothing more than a public servant. She wants us to believe she's infested Congress for nearly 40 years only because she wants our lives to be better. Um… nobody sticks around the D.C. swamp for that long just to help other people.
It's hard to ignore just how rich old Nance got. She sucked up plenty of power as a lifelong congresswoman. And she used that power and knowledge for a nice, hefty payday. And now, it looks like some of her scheming is coming back to haunt her.
From Just the News:
Congresswoman and former House Speaker Nancy Pelosi and her husband sold 30,000 shares of Alphabet, the parent company of Google, in a transaction worth up to $3 million, weeks before the Justice Department filed an antitrust lawsuit against the tech giant…

While Google's stock is worth $95.22 on Thursday, shares fell nearly $5 after the government announced the lawsuit.
So… here's the skinny. Nancy Pelosi and her husband (a career investor) just happened to sell off millions of dollars of Google stock—just before the DOJ hit them with an antitrust lawsuit. That means Pelosi and her husband were able to sell the stock at a high price before news of the lawsuit forced the stock to lose value.
If you or I had done that, we may have gone to jail for insider trading. Yet Pelosi has fought tooth and nail to make sure she and the rest of Congress can get rich off something that is illegal for the rest of us.
Pelosi fought a bill that banned members of Congress from buying or selling stocks. It passed, but with a loophole that lets family members (including spouses) continue to trade stocks. Of course, that makes the law completely worthless.
It's unethical for lawmakers to buy or sell stocks because of the knowledge they get while in office. Pelosi would have known about the DOJ lawsuit because as Speaker she was briefed on major actions like that. Plus, Congress members have the power to pass laws that affect major industries.
Kind of creates a massive conflict of interest, if they own stocks, right? Yet Pelosi and her husband blatantly do this kind of thing. Because they really don't care what the rest of us think.
But the court of public opinion was not kind to Pelosi. Many accused her of committing insider trading or worse. This is a major reason so many Americans distrust our government. Because crooked politicians like Pelosi are always doing this.
Perhaps we need stronger laws to freeze the Pelosis of the world in their tracks?
Key Takeaways:
Nancy Pelosi and her husband sold Google stock just before it was sued by the DOJ.
Pelosi has opposed laws that prevent Congress members from trading stock.
The Democrat has long gotten wealthy thanks to her position in Washington.
Source: Just the News