Hours After Nancy Pelosi Leaves Taiwan – Red China Takes Concerning Military Action Over the Strait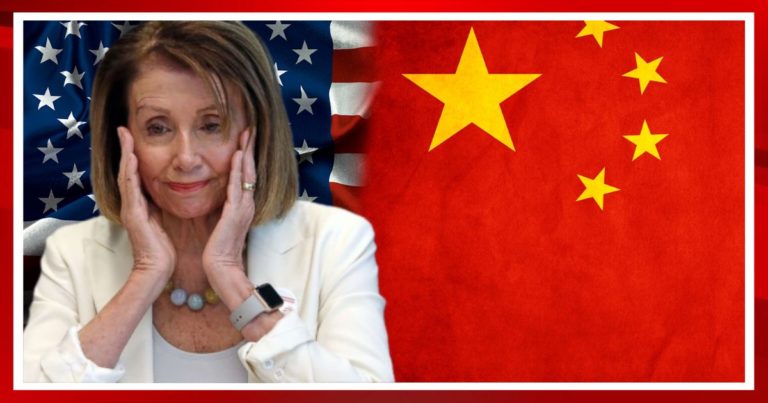 What's Happening:
Defying warnings and common sense, Nancy Pelosi took her trip to Taiwan. The visit was mostly uneventful—since Pelosi has no power to help or hurt the country.
But China is pretty upset about it. They had made strong threats against the U.S. before Pelosi's trip.
And now, they have ramped up the saber-ratting.
From Fox News:
China claimed its military successfully executed "precision missile strikes" in the Taiwan Strait Thursday, a day after House Speaker Nancy Pelosi left the island…

"Long-range armed live fire precision missile strikes were carried out on selected targets in the eastern area of the Taiwan Strait," the Eastern Theater Command of the People's Liberation Army, the ruling Communist Party's military wing, said in a statement.
Just a day after Pelosi visited Taiwan for a photo op, China fired missiles into the Taiwan Strait.
The communist nation claimed these were "precision missile strikes." It's unclear what "targets" they were aiming for.
But the Chinese military claimed they "achieved" what they were trying to do.
China has been ramping up the rhetoric and military forces ever since Pelosi announced her trip.
The communist regime seemed to think Pelosi's visit was a sign that the U.S. supported Taiwan as an independent country.
It does not appear that Pelosi made any statements to that effect while in Taiwan. Biden's administration continues to not make a strong statement.
But this situation clearly cannot remain the way it is. Either America has to defend Taiwan from China's advancements…'
Or cave to a communist dictatorship, that might soon invade the country.
For now, China appears to be just talking. But it might not be long before it takes actions similar to Putin against Ukraine.
Will Biden do anything to help an ally? That we don't know.
Key Takeaways:
China fired missiles into the Taiwan Strait a day after Pelosi's visit.
The communist country warned Pelosi not to visit Taiwan.
The Biden administration has so far refused to defend Taiwan.
Source: Fox News