After Nancy Rips Up Trump's Speech On Live TV – Donald Turns The Tables On Her: "That's Her Legacy"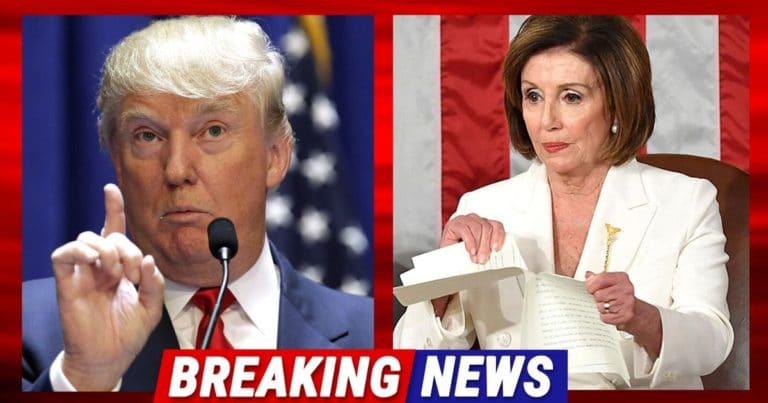 Last night, President Trump delivered one of the most unforgettable State of the Union addresses in our history.
He gave out the Presidential Medal of Freedom, reunited a military father to his family, and inspired a nation.
And then, in classic fashion, Nancy Pelosi tried to ruin it.
Immediately after the president finished his address, the Speaker tore her copy of the speech to shreds. She did this right in front of Congress—and the entire American people.
If you didn't see it, take a look:
Pelosi RIPS the state of the union copy right after President Trump finishes pic.twitter.com/9Uw6yROcRi

— Salvador Hernandez (@SalHernandez) February 5, 2020
Pelosi RIPS the state of the union copy right after President Trump finishes
The Speaker looked pretty angry as she ripped up the speech. Is she flabbergasted at how successful Trump just was?
He honored Rush Limbaugh, reuniting a military family, and celebrating the last living Tuskegee airman.
Or perhaps she can't believe her years-in-the-making impeachment of Trump has backfired. His approval numbers are soaring despite everything she's done.
Not willing to let her get away with this show of disrespect, the president and White House fired back.
From Twitter: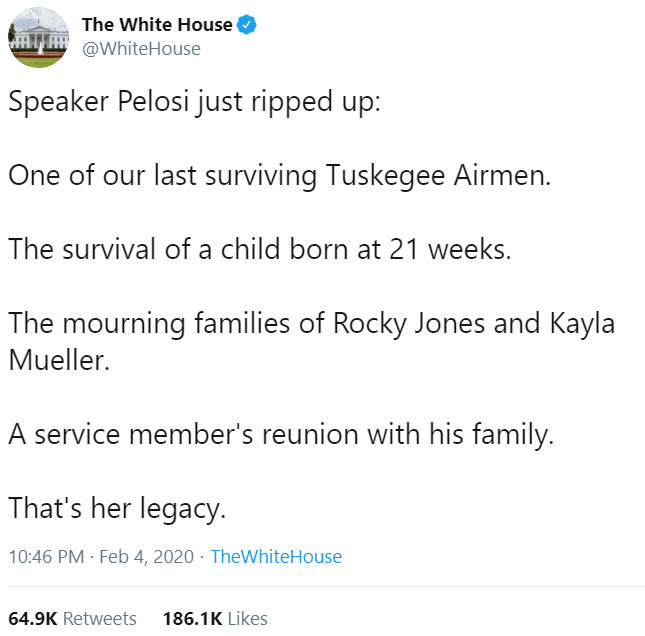 Speaker Pelosi just ripped up:

One of our last surviving Tuskegee Airmen.

The survival of a child born at 21 weeks.

The mourning families of Rocky Jones and Kayla Mueller.

A service member's reunion with his family.

That's her legacy.
Nancy Pelosi accused Trump's speech of not containing truth. Really?
Trump celebrated the record-breaking economy and the USMCA and Phase One China deals. Those aren't lies. He championed Americans and honored our great heroes.
One guest said, "It felt like she ripped our hearts out." Ouch. Maybe Pelosi should apologize for what she did.
Or maybe they should just pay for it at the ballot box in November. What do you think?
SHARE if you want Pelosi and her Democrats to lose big in 2020!