In The Middle Of Trump's Nevada Rally – Supporters Started Chanting About Obama: "Lock Him Up"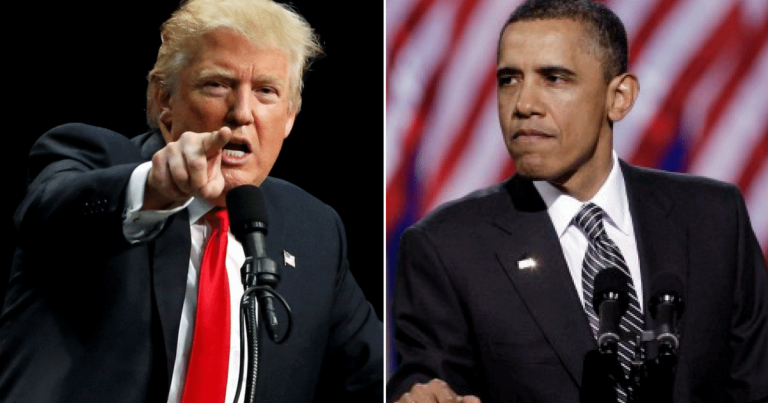 What's Happening:
President Trump has successful returned to hosting his legendary rallies.
And over the weekend, he attended a packed-out venue in Nevada (despite the liberal governor's opposition).
As usual, the crowd was fired up to see the Commander in Chief. They cheered "We love you," bringing Trump nearly to tears.
But they also had some choice words for his predecessor:
The President says President Obama got caught spying on his campaign and the crowd chants lock him up? pic.twitter.com/mDYAWBO0n2

— Acyn Torabi (@Acyn) September 14, 2020
While holding a rally in Henderson, Nevada, on Sunday night, Trump accused Obama saying he "got caught spying on my campaign" in 2016.

"He got caught," Trump continued. "We caught him cold…Now let's see what happens."

The crowd then burst out in chant, "Lock him up! Lock him up! Lock him up!"
During his speech, Trump described how his administration "caught" Obama in his attempts to spy on his 2016 campaign.
As he spoke, the crowd broke out in a chant, "Lock him up!"
It was reminiscent of the chants often heard in 2016, when his supporters called for Clinton to be "locked up" over her alleged criminal behavior.
Since Trump entered office, we've learned quite a bit about what some call "Obamagate."
During and after the 2016 election, top Obama officials engaged in efforts to apparently undermine Trump's campaign.
They used Hillary's bogus dossier to acquire warrants against Trump staffer Carter Page.
Even though they knew he was working for the government, they monitored his emails as if he was a Russian spy.
The more we learn about what happened, the more Americans agree that the former administration tried to set up Trump's campaign.
President Trump has often accused Obama himself of being in on the attempt. But will definitive evidence emerge that reveals Obama was behind it from the start?
Could have Obama not known what his own DOJ/FBI was up to?
Either case, it appears Trump supporters want consequences for what happened to their president.
Key Takeaways:
Trump resumed campaign rallies, visiting Nevada over the weekend.
His supporters chanted "Lock him up," referring to Obama.
Many believe Obama was behind the wiretapping against Trump's campaign.
Source: IJR