New York City Turns Heads with Migrant 'Solution' – They Are Actually Going to Stick Them in Tent Cities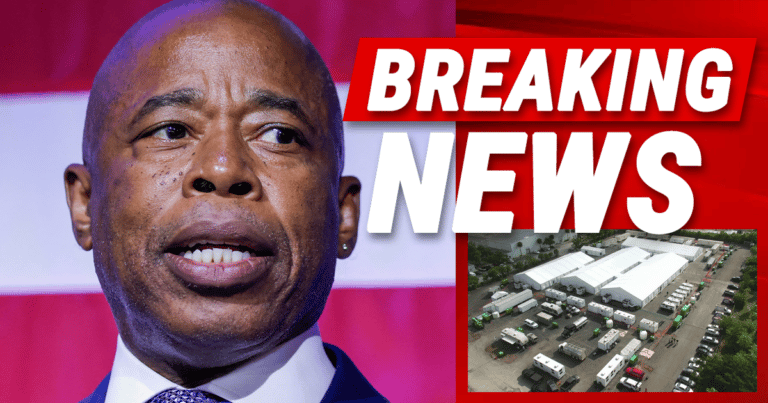 What's Happening:
When Texas Gov. Abbott started sending migrants to New York, the mayor had a meltdown.
Abbott extended an olive branch by inviting the man to see the border. Perhaps if Mayor Adams understood the crisis, he'd get on board with securing the border?
Nope! As far as we know, he's never seen the border. Instead of urging Biden to fix it, he's come up with a plan that is sure to be a nightmare.
From Breitbart:
New York is building expensive tent towns to hold thousands of the penniless migrants being delivered by President Joe Biden's pro-migration deputies…

But the needs of Americans are being shunted aside in the elite's rush to import more migrants.

"We're laser-focused on supporting the parents, children, and individuals who deserve compassion and support, and these centers are one piece of our work to do just that," said Phillip Banks, the deputy mayor for public safety.
Okay, so let's get this straight. Instead of advocating the Biden secure the border, you know an actual solution, Adams is spending millions to house migrants in town cities.
And he's bragging about it as if this is some kind of compassionate solution to the growing crisis.
The mayor is demanding all city departments slash funding to pay for these shanty towns. That means tax dollars won't be going to improve the city.
No new infrastructure. No new police. No new textbooks for students. Instead, Adams is flushing this money down the toilet to house illegal immigrants.
One of two things is going to happen. Either, these tent towns will never be used. They will be left empty and unfinished, like so many government projects. A waste of millions of dollars.
Or, the worse option, New York will dump its homeless and migrant population into these tent cities–without oversight, enforcement, or direction.
They will quickly become breeding grounds for crime, rape, violence, and more. Like the old housing projects of the 1970s, the poorest and most dangerous of the city will infest these places.
These tent cities won't do anything to help these people, just condense them into what will essentially be detention centers.
Much like the ones Biden let get overrun down at the border.
And to think, your money will go to pay for these.
Key Takeaways:
NYC Mayor Adams is building tent cities to house Biden's illegal aliens.
He is slashing city departments' budgets to pay for these tent cities.
Adams has yet to see the border and push for Biden to secure it.
Source: Breitbart