News Employee Airs Doctored Trump Speech, So Fox Delivers Swift Justice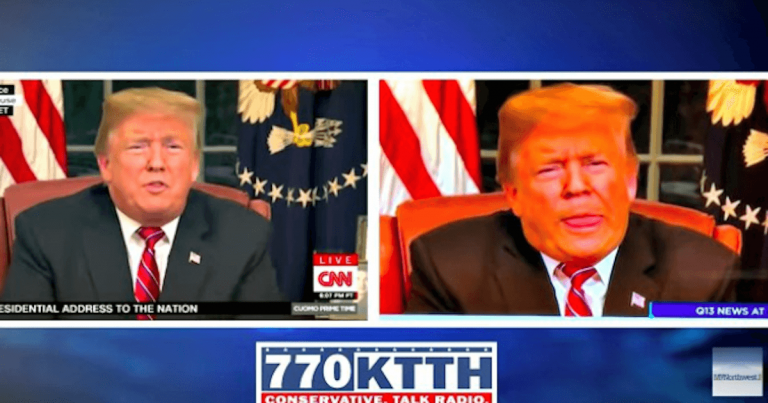 This week, President Trump gave a direct and impassioned speech about the importance of securing our border.
And it was PERFECT.
But some Americans didn't want to watch the president deliver the facts.
In fact, one anti-Trumper went so far as to play an adolescent prank on the President of the United States … in public.
A local news station employee in Seattle doctored the speech footage—to make Trump appear odd and ridiculous.
This pathetic, childish stunt outraged Americans.
But the good news is, his boss had the last laugh.
From Breitbart:
"FOX affiliate Q13 in Seattle announced Thursday that it terminated an employee for altering a video of President Donald Trump's first Oval Office address, which aired on its broadcast.

The video, which aired during the Seattle-based news station's broadcast of President Trump's prime time speech, shows the president sticking his tongue out…

'This does not meet our editorial standards and we regret if it is seen as portraying the president in a negative light,' Q13 news director Erica Hill said of the video."
Sadly, this is what journalism has become in our country.
And despite what the far-left media says, the situation at our border couldn't be more critical.
President Trump called it a humanitarian crisis and he's 100% correct; his call for a border wall will ensure America's safety for generations to come.
Every American needs to be aware of this massive issue.
And what happens?
A pathetic liberal deliberately ruined the speech, in a childish attempt to mock the President.
Imagine being so unprofessional, that you'd insult the President of the United States…
But again,  this just proves that some people have little respect for their president, their fellow Americans, or the problems we face.
And Trump MUST prevail in the face of all this hate, for our own safety!
Source: Breitbart