Newt Gingrich Makes Dire Prediction For 2021 – He Claims The Future Of America Comes Down To Senate Races In Georgia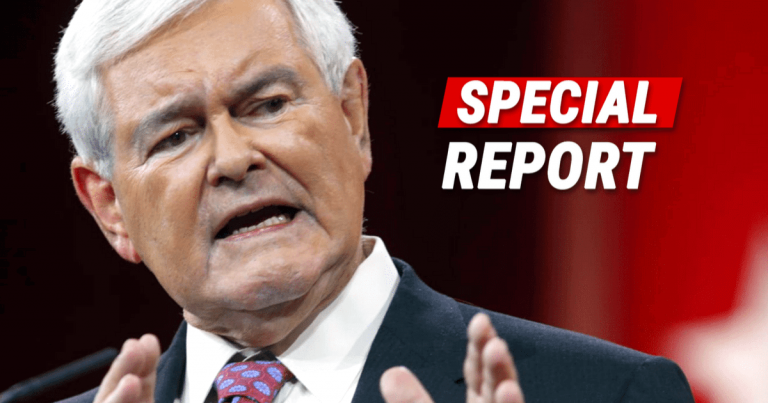 What's Happening:
Newt Gingrich is no political lightweight. And he's not afraid to jump into controversy when necessary. He's making a dire prediction about our country post-2020.
Gingrich predicted Trump would win a second term. And he maintains that if everything is counted correctly, Trump will still be president.
But he has another big prediction all Americans should be paying attention to. He's saying the fate of our country comes down to two races coming up in January:
America's future depends on the outcomes of the elections for the U.S. Senate in Georgia, said former Speaker of the House Newt Gingrich (R-GA) on Monday, offering his remarks on SiriusXM's Breitbart News Daily with host Alex Marlow…

Gingrich continued with this advice, "My message is very simple. The future of the United States depends on the outcome of the Georgia Senate races. If you don't want a radical left-wing America dominated by left-wing judges with massive tax increases, with a policy, frankly, of appeasing China, and you don't want that kind of future, you have to go out and vote…"
Gingrich urged all Georgia conservatives to get out and vote in the runoff Senate races in January. He said that if Democrats won those seats, and got more influence in the Senate—they'd push a radical agenda.
He went even further and said that conservatives need to volunteer as poll watchers.
Plenty of stories and reports have circulated about antics going on at polling places this November. And Republicans accused election workers of preventing their observers from watching the process.
If we want these runoffs to be fair and open, everyone needs to vote and plenty need to be watching what is going on.
We've heard about all kinds of "irregularities" this year. Do you think it won't happen in these upcoming races?
Three times Georgia election workers "forgot" to upload votes. What else might go wrong, if nobody is watching?
Gingrich is generally an optimist man with hope for the future. So, his dire warning shouldn't be taken lightly.
Democrats don't appear interested in uniting the country or finding common ground. They have one last chance to turn America into a left-wing state that bows to China. If they win these races, all bets are off.
Key Takeaways:
Newt Gingrich urged all Georgia Republicans to vote in January.
He also encouraged many to volunteer as poll watchers.
He said the fate of the country comes down to two races.
Source: Breitbart