Newt Gingrich Drops the Hammer on Donald Trump – The Speaker Just Told 45 He Needs to "Rethink" Running Again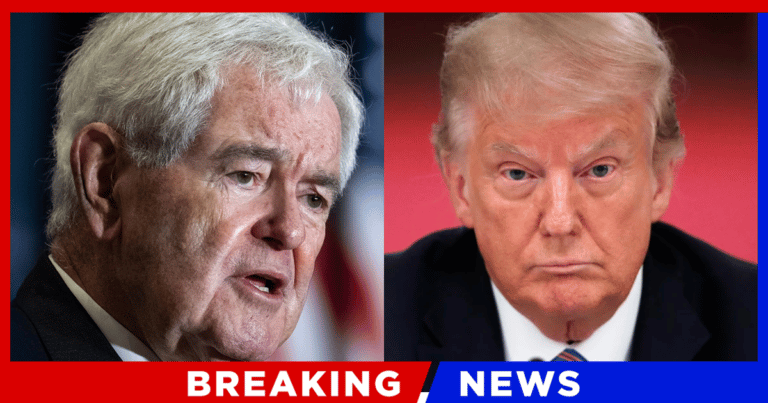 What's Happening:
The liberal media is trying to spin the 2022 Midterms results to help the left as much as possible. They are obviously ignoring the fact Republicans won more than Democrats. But one thing is undeniable, many Trump-backed candidates lost races that should have been easy GOP victories.
Experts and pundits continue to dissect the results of the elections. All eyes will soon be shifting to 2024, where even more will be decided. Top Republican figure, Newt Gingrich, weighed in on the 2022 aftermath. And he's saying something nobody expected from this Trump ally.
From Just the News:
Former House Speaker Newt Gingrich told Just the News that former President Donald Trump is likely "rethinking and reappraising" running for president again in 2024…

"I mean, just in my own emails today, the number of people who want somebody other than Trump who have decided, literally overnight, that person is going to be DeSantis, he's going to find it almost impossible to avoid running," Gingrich said on Wednesday.

"I think Trump's got to look at the results and be troubled," he added. "I can tell you, for me, this was not the result I expected. I thought we'd win a lot more seats."
Newt Gingrich is a longtime Trump supporter. He backed Trump early on in 2016 when many Republicans were skeptical. And he went into 2022 convinced Trump and his allies would ride a red wave to victory.
Now, the former Speaker appears to be urging Trump to hold back a 2024 announcement. Newt is watching reactions from the Republican Party and seems to be realizing that Trump might not be its future.
The biggest winner of the 2022 Elections was undeniably Ron DeSantis. And after this week, many more Republicans will rally around him for the 2024 nomination. Even Gingrich seems to be suggesting Trump is in trouble.
Many are speculating that Trump's influence in America is waning. Democrats have done a good job painting him as a "dangerous" figure who needs to be forgotten.
And Trump's own extremist, polarizing style has long alienated voters that might have otherwise supported Republicans, in the face of Biden's horrible failures.
Could this be the start of a dramatic shift in the GOP? Maybe, so long as it doesn't shift to the McConnell RINOs.
Key Takeaways:
Newt Gingrich claims that Trump is "rethinking" his 2024 plans.
Gingrich revealed many people are supporting DeSantis, after his huge wins.
Trump-backed candidates lost big in the midterms, stunning many conservatives.
Source: Just the News