After NFL Continues Anthem Protests, Trump Makes Sudden Superbowl Announcement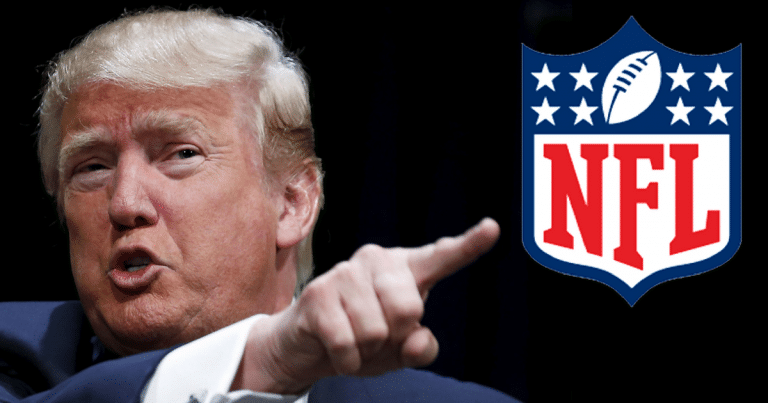 Those who take a knee for the national anthem are doing more than showing their disrespect for our flag. They are disrespecting our nation, our values, and the brave men and women who protect our country from harm.
San Francisco 49ers quarterback Colin Kaepernick first kicked off the anthem protests in August of 2016, claiming, "I am not going to stand up to show pride in a flag for a country that oppresses black people and people of color."
Many argued that taking a knee is a protected act of protest under the First Amendment, while others pointed out that the NFL is an employer, and as such can fire players for refusing to abide by the rules of the workplace.
The NFL officially banned players from taking a knee last month, but Trump has taken further steps to ensure that those who won't stand for our country suffer consequences, no matter how high up they are.
From NBC 10:
Less than 24 hours before the Super Bowl champion Philadelphia Eagles were set to visit the White House, President Donald Trump rescinded their invitation, citing national anthem protests and boycotts from some team members. 
"[The Eagles] disagree with their President because he insists that they proudly stand for the National Anthem, hand on heart, in honor of the great men and women of our military and the people of our country," Trump said in a statement released Monday evening. "The Eagles wanted to send a smaller delegation, but the 1,000 fans planning to attend the event deserve better."
Trump said Eagles fans are invited to the White House "to be part of a different type of ceremony — one that will honor our great country, pay tribute to the heroes who fight to protect it, and loudly and proudly play the National Anthem."
Overall, seven Eagles players refused to attend the White House visit. Other players had expressed a desire to go, but only for the national recognition it would bring them.
"I'm excited to be going to be honored as world champions. It's a great honor,"  said head coach Doug Pederson. Quarterback Carson Wentz said, "I think it's just a cool way to receive the honor nationally and be recognized."
None of the Eagles said that they would like to go to meet the President, and none expressed pride in living in America, which is exactly why President Trump is holding a different ceremony.
The men in the NFL may entertain us, but it's our service members that protect us, and they will always be more deserving of a White House visit than any other group of people.
Source: NBC 10