NFL Congressman Tackles 'Racist' Democrats – He Just Sent Them Sprinting For The Exits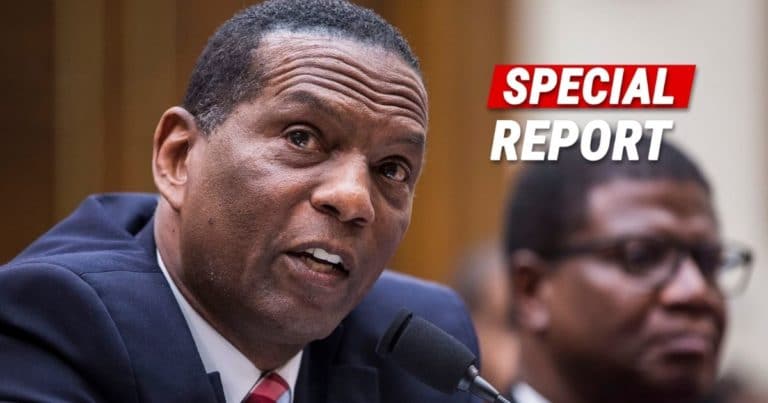 What's Happening:
Burgess Owens is a former NFL star who was elected to Congress in 2020. The Utah Republican is already making waves in the D.C. swamp.
He has called out liberal doubletalk and tactics that don't make sense. And he's demanding answers from the higher-ups in the House.
He's even hitting back with some impressive strategies of his own.
The left accused him of hypocrisy for opposing gun-control measures, but wanting voter ID laws.
He was even called pro-racist—so he tackled them with a genius argument.
From Daily Wire:
On Thursday, Rep. Burgess Owens (R-UT) directly confronted a critic who accused him of "bias" because he opposed two gun-control bills while approving of requiring voters to show an I.D. in order to vote. Owens fired back, "You know what's racist? Assuming because I'm black that 'I just don't have the capability of getting an I-D.' Disclaimer: We are capable of getting and I-D (and even using the internet!)"
Imagine the gall of a Democrat calling a black man racist for wanting voter ID laws.
Yet that is the kind of garbage coming out of Democrats mouths, these days. They accused Owens of being hypocritical for opposing their abusive background checks for guns but supporting ID requirements to vote.
As if the two issues were even remotely related.
Owens slammed Democrats are their tired accuse of racism. He called them out, saying it's actually racist to think black Americans can't get a basic form of identification.
He ridiculed his critics by explaining to them that he—and the rest of black America—can get IDs and even use the Internet.
He bashed them, explaining how he, a black man, uses his ID to drive a car, get a job, board a plane, get prescriptions, basically everything we do with IDs. Yet Democrats claim that black people and other minorities don't have IDs—so they shouldn't have to have one to vote.
That is the dumbest and most insulting logic I've ever heard. It's the kind of thing you'd expect to hear from a racist old man in a movie from the '50s.
Do Democrats really think black people can't get IDs? (If they really thought that, then why don't they make sure black people can easily get an ID?)
You need an ID for much more than voting. Are Democrats really not trying to help black Americans get a basic document for day-to-day life?
Or is this all a ruse to let illegal immigrations and fraudsters vote in our elections? No voter ID makes it really easy for cheats to use a dead person's name. Or to get non-citizens registered.
Owens isn't buying the left's excuses. And neither should we.
Key Takeaways:
Burgess Owens slammed Democrats for their hypocrisy in voter ID.
He said it was racist to think black people can't get IDs.
The Republican criticized liberals for calling him racist for supporting ID laws.
Source: Daily Wire