Nikki Haley Sent Spinning During Live 2024 Launch – The Former Ambassador "Couldn't Even Crack 2k"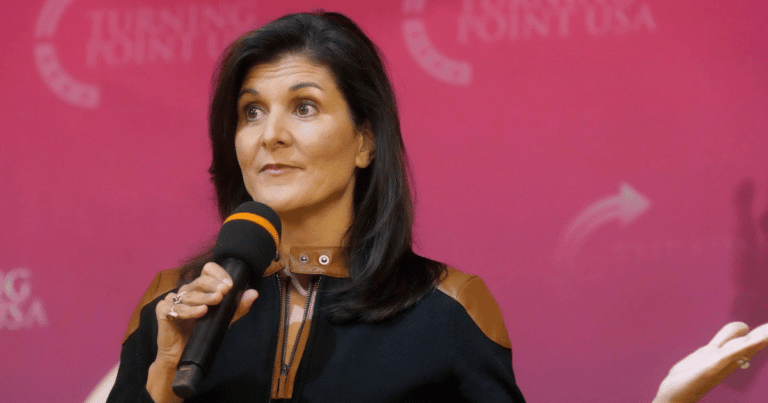 What's Happening:
Donald Trump got his first 2024 rival in Nikki Haley. The former South Carolina governor and UN ambassador launched her campaign this week. She held a rally in Charleston and streamed it online, when she announced her intentions to run.
If she has a chance at winning the election, she will first have to beat a former president. Donald Trump, despite being out of office for two years, still enjoys millions of followers. Even a simple comment of his goes viral in a matter of minutes. But Nikki's big moment might have doomed her already, based on this one thing.
Nikki Haley couldn't even crack 2k live viewers for her announcement speech. https://t.co/nu47l6FS3W

— The Columbia Bugle 🇺🇸 (@ColumbiaBugle) February 15, 2023
Uh… ouch. According to reports, Nikki Haley's first campaign event, when she announced her run for president, didn't receive more than 2,000 live viewers as it streamed. This doesn't prove much, right now. But if she can't draw larger crowds in the coming days and weeks, she'll have a hard time building momentum.
Most campaigns start out small. But with lots of hard work and luck, a candidate can build a support base that sweeps them into office. Haley, though, has her work cut out for her. This isn't running against a collection of newcomers who haven't done this before.
She is running against one of the most iconic and notable men in American history. A man that is loved by millions, even as the MSM slanders him daily. If she hopes to best Trump in a primary race, she needs to quickly muster support.
But the story if far from over. If she can connect with voters–online and in person–there is a chance she can hang on until primary voting begins next year. What can someone do to build momentum, against Donald Trump? We can't say for sure, that's Haley and her team's job.
One thing we can tell is… it's a long way until November 2024.
Key Takeaways:
Nikki Haley's kickoff campaign event received less than 2,000 live viewers.
Critics are comparing it to Trump, who often draws in large crowds and streaming audiences.
Haley is the first candidate to run against Trump this election cycle.
Source: Twitter