Nikki Haley Goes After Liberal Democrats – She Just Warned America That In 2020, 'Socialism Went Mainstream'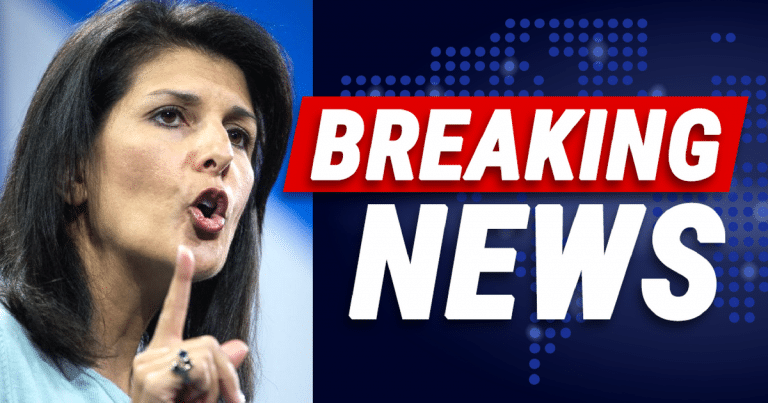 What's Happening:
Once upon a time, there were Democrats who appreciated the American Dream, capitalism, and even patriotism.
Boy, does that seem a long time ago. If you're thinking that modern-day Democrats look nothing like the rest of us, you're not dreaming.
In fact, former Trump administration official Nikki Halley has some news for us. Thanks to the progressive left, Democrats are now whole hog socialists. From Fox News:
Socialism became more accepted in 2020 and is on its way to becoming the default economic policy for Democratic politicians, former U.S. Ambassador to the United Nations Nikki Haley warned Monday.

Taking to Twitter, the high-profile Republican wrote, "2020 was the year socialism went mainstream."

Calling socialism a "dangerous ideology" the former governor of South Carolina noted it "has failed everywhere it has been tried & ruined countless lives."
Halley warned Americans that thanks to Democrats, socialism went "mainstream" in 2020.
Socialism was always a fringe policy by Democrats considered extreme and far-left. That's not the case anymore.
Joe Biden and his "moderate" supporters seem to have embraced one socialist idea after another. In the face of the pandemic, many Democrats adopted the position of shutting down our free market, capitalist economy, no questions asked.
The only hope many Americans had was in socialist-style handouts from the government, which weren't enough to keep the lights on for some.
Democrats don't seem to appreciate or defend capitalism. That includes the rich, entitled Hollywood libs who profited off of capitalism for years.
Today, they seem to admire Castro and Che Guevera more than Washington and Hamilton.
Haley is warning all Americans that if we continue to let Democrats call the shots, we'll lose big time. Socialism doesn't work, anywhere in the world.
According to her, it brings only poverty and oppression.
The only way to stop it is to reject any leader who wants it.
Do you support socialism in America?
Key Takeaways:
Nikki Halley claimed socialism became "mainstream" in 2020.
Democrats have bowed to people like Sanders and AOC.
Even moderate Democrats have abused their power to shut down the economy.
Source: Fox News