Nunes Devastates Top Obama Democrat – Slaps Down Evidence That Could Land Him Behind Bars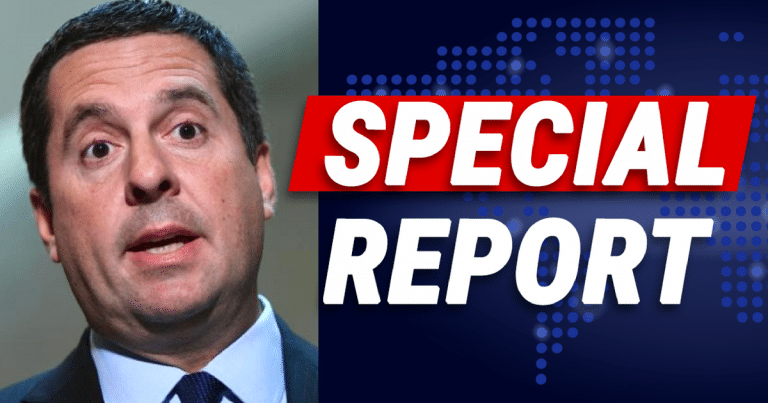 He thought he got away with it – but Devin Nunes has the hard evidence!
We've seen numerous Democrats get pinned recently for serious crimes. There have been endless investigations into liberal politicians who are found guilty.
But somehow, they never face the consequences for their actions! Meanwhile, the average citizens get nailed for driving through a yellow light!
Rep. Devin Nunes is sick and tired of this game. He's ready to put an end to this stream of corruption.
The congressman says there is clear evidence of a criminal conspiracy against Donald Trump. And he points to a top Obama Democrat who thought he was safe… for now.
From Breitbart:
[Rep. Devin Nunes] said that Comey, who President Donald Trump fired as FBI director in the first few months of his presidency sparking the launch of the now-completed Special Counsel investigation, could still face charges on a criminal conspiracy from the U.S. Attorney in Connecticut.
Woah. Devin Nunes calls out Comey over his leaking of sensitive information to the press. He says the former FBI agent can still face criminal conspiracy charges for what he tried to do to the president.
The DOJ condemned Comey for his actions. He kept memos of his meetings with the president, without anyone's knowledge.
When he got fired, he leaked those confidential memos with the intent to spark the special counsel. It was all aimed to accuse Trump of obstruction and collusion.
We know what ended up happening. Trump was cleared of all charges, after years and millions of tax dollars wasted.
Americans had to sit through years of fake news trying to frame Trump as a Russian puppet who hates our laws.
Today, liberals still accuse Trump of being a traitor, even as he continues to make America great.
All because Comey leaked information to the public.
Leaking confidential information is illegal as is. But doing it with the intent of framing the president? That certainly sounds like a criminal conspiracy to me.
But the question we have to ask is: when? When is our DOJ going to actually hold Comey accountable for his shocking actions?
SHARE if you would love to see Comey behind bars!
Source: Breitbart