NY Governor And Mayor Go Head To Head – Cuomo Taunts de Blasio Over Removing NYPD Funding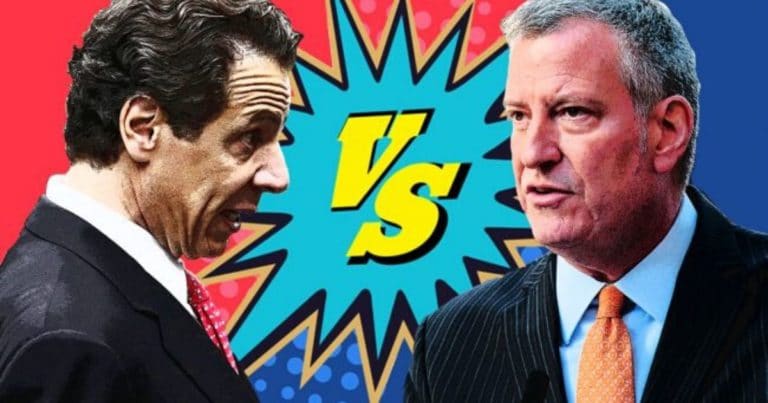 What's Happening:
In the aftermath of nationwide riots against police, New York Mayor Bill de Blasio announced a $1 billion cut to the NYPD's funding. De Blasio claims this would provide greater fairness and safety.
But it appears even the Democrat Governor of New York is not impressed. Andrew Cuomo commented on de Blasio's significant slash to the police's budget, asking what it means:
New York Gov. Andrew Cuomo slammed the New York City Council's move strip the New York Police Department of $1 billion in funding, questioning "what it means" and calling for concrete action…

"What does that mean? Does this mean I am less safe? Where did you take the billion dollars from? Does it mean I am more safe? Does it have any effect on police abuse? I don't know what it means."
Our Take:
Gov. Cuomo's rhetorical questions reveal his true feelings about de Blasio's move.
He appears to be suggesting that taking a billion dollars from the police department will not solve the larger problem. He even suggests that will make New Yorkers less safe, as the slash in funding means fewer cops on the streets.
Cuomo's apparent criticism of the move should not be overlooked. Since the protests, Democrats have been quick to bow to the whims of radical activists. Numerous cities plan to eliminate police departments to reduce their funding.
Yet they seem to forget that police unions—like many other labor unions—donate heavily to the Democrats. Once upon a time, Democrats understood how important police were to local government (and politics).
That is especially true in New York, a city with roughly 8 million people.
What would slashing the police budget mean to moderate Democrats and those who want law and order?
De Blasio appears to forget that only a fraction of Americans have embraced the radical left's agenda. Many, including black Americans, want good police enforcing the laws.
While it was fine for Democrats to pay empty lip service to the "defund the police" movement, it appears Cuomo is upset that this mayor is going further than that.
Cuomo threatened to remove de Blasio at the height of NYC's COVID outbreak.
Perhaps this move will force his hand?
Key Takeaways:
Gov Cuomo expressed criticism over Mayor de Blasio's move to defund the NYPD.
Police unions donate to Democrats; Cuomo might be fearing the repercussions.
This move could provoke Cuomo to take further action.
Source: Fox News