New York Mayor Could Shut Down 1st Amendment – Says Churches That Disobey Can Be Permanently Closed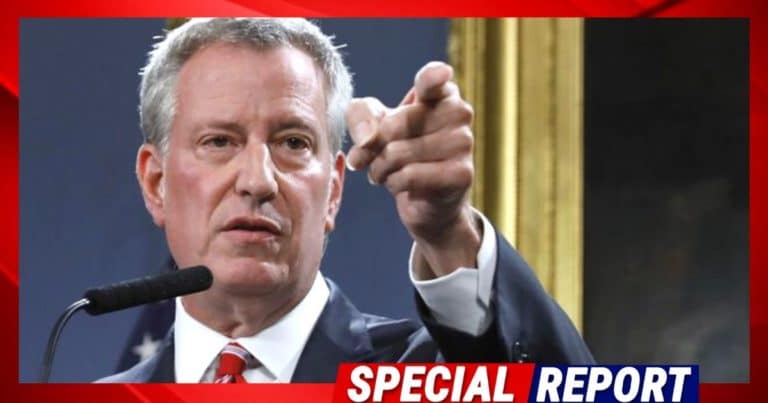 America is facing a serious crisis. But some politicians are going way too far.
With millions of Americans suffering, many are turning to faith for guidance. America's churches are offering hope and leadership during this crisis.
Many have resorted to online services to keep their congregations encouraged. But others, perhaps smaller groups, do not have those resources.
Some still want to meet, despite the mandates handed down by the government.
They don't believe our First Amendment rights don't go away because of a pandemic—or executive order.
Yet, New York's Bill de Blasio is seeking any excuse to destroy some residents' religious rights. And he's giving them a serious warning.
From Washington Examiner:
New York City Mayor Bill de Blasio warned religious leaders that their places of worship could be shut down permanently if they did not follow the city's order to pause services during the coronavirus pandemic…

"If you go to your synagogue, if you go to your church and attempt to hold services after having been told so often not to, our enforcement agents will have no choice but to shut down those services," he added.
Looks like some atheist liberals are finally getting what they want. New York's mayor is threatening to shut down churches and synagogues if they don't comply with his orders.
Keep in mind, this is a man who, just weeks ago, claimed there was no problem. Even as the city was hit hard, he didn't declare an emergency.
City officials threatened to quit, just to get him to do his job.
Even afterward, he kept going to his local gym!
Yet now, he thinks he has the authority to shut down residents' right to worship?
Listen, it's wise to limit your interactions during this time. The last thing anyone wants is for people to get sick going to church or temple.
Many congregations are calling their members, making sure no one is neglected. Perhaps that is a better solution than continuing services (for a time).
But should de Blasio be able to permanently close down churches that disobey?
In a similar fashion, some mayors and governors are trying to shut down gun stores—using the virus as an excuse.
Really? How many times are Democrats going to use this crisis to erase our freedoms and push their agenda?
Pelosi tried to pack the relief bill with billions for progressive projects. Some cities are trying to ban gun sales.
And de Blasio thinks he can end some church services—permanently.
It's time for us to tell liberals that they do not have the power to turn themselves into dictators. No matter the crisis.
SHARE to keep Bill de Blasio from shutting down our Constitutional rights.
Source: Washington Examiner