NYC Mayor de Blasio Cancels All Large Events – Except, Of Course, For Marches With Black Lives Matter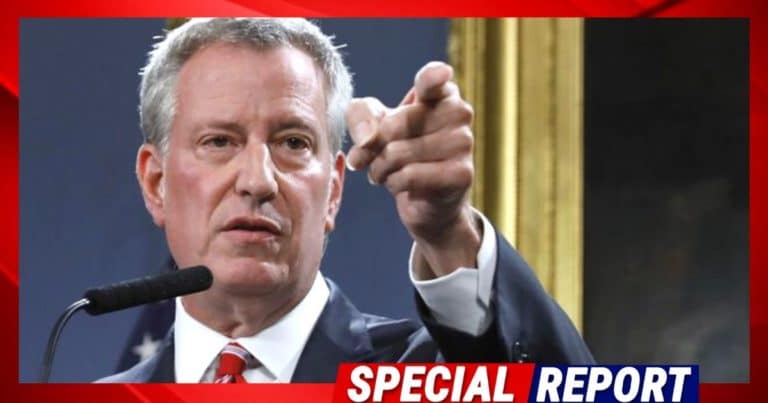 What's Happening:
Democrats are slowing down their states' reopening efforts in obedience to the media's continued handwringing over COVID-19.
While businesses and other functions can remain open, liberals are cracking down on church services, outdoor gatherings, and other large events. This comes after a wave of activists have thrown mass protests, and in some cases, violent riots, in major cities.
In New York, Bill de Blasio has extended these restrictions all the way until the end of September.
He's canceling everything except, of course, for marches with Black Lives Matter:
Mayor Bill de Blasio is permitting Black Lives Matter protesters to continue marching through city streets while canceling all large events through September…

The City Hall shutdown will include big parades like the West Indian American Day Carnival in Brooklyn Labor Day weekend, the Dominican Day Parade in midtown Manhattan and the San Gennaro festival in Little Italy.
Our Take:
Critics have slammed Democrats for months over their apparently hypocritical stance on nationwide, anti-police protests. Even some liberal health officials have said that most Americans must stay indoors and suffer unless they are protesting with BLM.
It seems these Democrats believe that viruses don't spread when you're protesting for the end of police departments.
The media has made much of a recent "spike" in positive COVID tests. But the president has frequently pointed to the massive increase in testing over the last few months as the cause of the spike, not reopening efforts.
He has called for a continued reopening of the country, including schools in the Fall.
If Democrats are so worried about the continued spread of the disease (even as deaths drop), why are they allowing protests? Regular Americans were condemned in May for gathering to demand to go back to work.
But it's okay if young people gather by the hundreds and thousands to protest police officers?
Very little was said about the danger of virus spread in Seattle's CHOP, nor the ongoing threat in Portland, where Antifa continues to riot.
Mayor de Blasio wants Americans to protest police brutality forever, but denies the same rights to churches and parades?
Perhaps this nonsense will only end when Americans decide they've had enough.
Key Takeaways:
New York mayor banned large gatherings, except BLM protest.
This continues with a trend among liberals to condone the protest, despite COVID restrictions.
De Blasio has attacked churches, schools, and large events, but embraced radical protests.
Source: Fox News