After NYC Mayor Bungles Riot Response – Petition To Remove Him Blows Past Goal, Grows To 121,000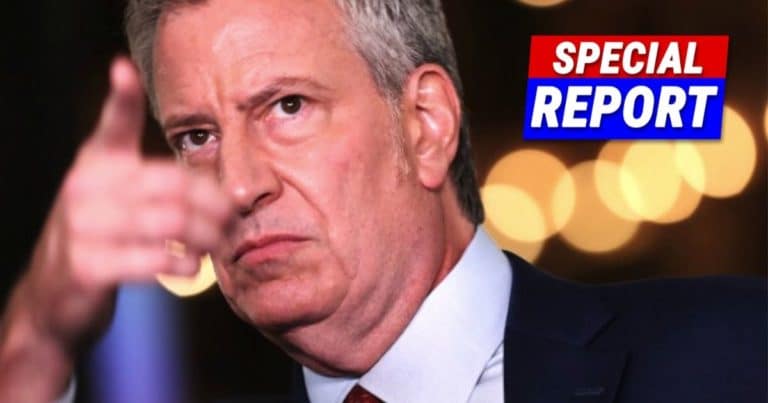 Riots over the death of George Floyd started in Minneapolis but spread quickly. Nowhere was hit harder than New York City.
The Big Apple, still reeling from draconian lockdowns, now suffers devastation at the hands of anarchists. What's even more outrageous is the mayor's unwillingness to end the chaos.
And now, a petition for his removal has gained major traction.
From the New York Post:
The petition was started last year, but thousands signed onto it Tuesday as controversy raged over protests engulfing the city that have triggered clashes between participants and police officers and reports of vandalism and damage to retail stores.
A petition to remove Bill de Blasio as mayor of New York has quickly grown in popularity over the last few days.
To date, there are over 120,000 signatures. Even though the petition was started last year, it has received significant support, ever since the governor himself criticized's de Blasio's performance.
Our Take:
The widespread violence in NYC appears to be subsiding, but demonstrations continue. The damage is significant and will take time to recover from.
It's no surprise that New Yorkers are getting fed up with their mayor. These aren't shrinking violets. New Yorkers don't mince words when they are fired up.
And it seems that thousands of them want this man gone, capiche?
De Blasio has presided over New York's decline for years. Rudy Giuliani and Mike Bloomberg left the city in pretty good shape.
It only took a Democrat just a few years to turn it into a nightmare.
From his terrible response to COVID-19 to these riots, it seems de Blasio doesn't care about the city. He seems as corrupt, incompetent, and evil as… well, pick your Democrat!
When will Americans from blue states learn to stop electing these liberals? They promise the moon but never deliver.
During two recent crises, we've seen how badly they perform. De Blasio's work during the pandemic and now the riots has been so bad, he should be run out of town on the rail!
But will he get his just desserts? We're not sure what this petition might accomplish, but it's a sign that New Yorkers are ready for a change.
Will that drive them to the polls and pick a better mayor?
SHARE if you want de Blasio—and all like him—removed from office.
Source: New York Post