NYC Mayor Proposes New Police Cuts – Now He Wants To Redistribute A Total Of $1B From NYPD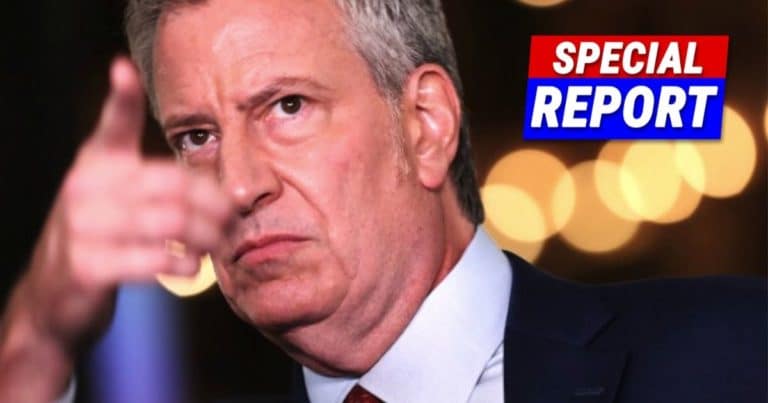 Police departments across the country now face major cuts from local governments, and the Big Apple is leading the way on redistributing taxpayer dollars.
Minneapolis has already proposed overhauling the entire law enforcement system.
And now, New York City Mayor Bill de Blasio wants to slash the NYPD's budget by a significant amount, but not only that, he wants to move it somewhere else.
However, his timing might not be great—as crime since the riots began is a growing concern in New York.
Via The Daily Wire:
New York City Mayor Bill de Blasio is proposing to slash the city's police department budget by $1 billion, even as crime is spiking in the Big Apple.
Where will that billion dollars go?
Well, though de Blasio wasn't too specific, he did say it'll be redirected toward "young people."
And the money would be used to "address a lot of the underlying issues that we know are the cause of so many problems in our society."
Currently, the proposed NYPD budget sits at $8 billion, and de Blasio says the city will soon face "the toughest budget we've had to do."
The NYPD will certainly face challenges in the near future.
Not only because of budget cuts, but also because the department might face some serious shortages soon.
By mid-June, 233 NYPD members filed for retirement, which is more than double the number year-over-year.
Undoubtedly, the police department will undergo many changes—but is this $1 billion cut a good idea?
Key Takeaways:
NYC Mayor Bill de Blasio proposes cutting $1 billion from the NYPD's annual budget.
de Blasio says the money will go towards the community, and "young people."
Crime and officer shortages may be definite concerns for the immediate future.
Source: The Daily Wire