After NYC Mayor Reveals Partial Police Defunding – 600 Police Officers Consider Abandoning The Force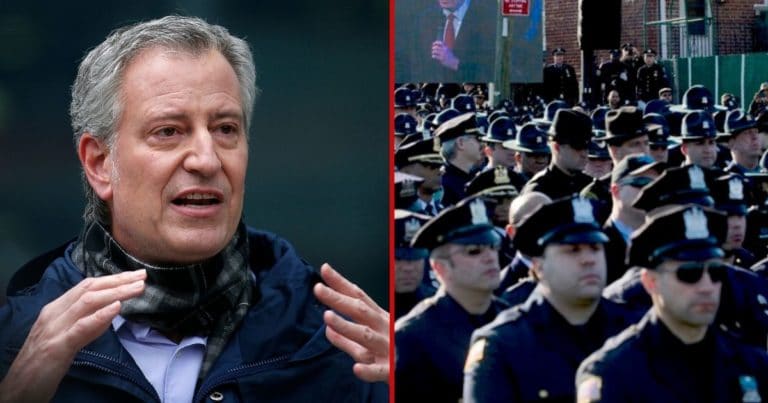 What's Happening:
In the wake of riots connected to the death of George Floyd, major cities have moved to cut police funding. Mayor of New York, Bill de Blasio, promised to shift funds from the NYPD to other agencies:
De Blasio unveiled a few reforms to the New York Police Department on Sunday at the urging of a task force on racial inclusion, of which his wife is co-chairwoman.

"We will be moving funding from the NYPD to youth initiatives and social services," the mayor said at a press conference.
This sparked outraged from a police department that believed for a long time that the mayor does not support them. In light of these new cuts, 600 officers are considering leaving the force:
"You have some in the hospital. But there were over 300, 300 injuries. And the thing that scares me, judge, I'm hearing close to 600 cops have either put in their papers, or they're talking to the department about resigning or retiring, like this is insane," he said.
Next to Minneapolis, New York has seen the most destruction from recent riots. The mayor—who has a reputation of being an adversary to the NYPD—refused to step in quickly to end the violence. He has even refused federal aid in the form of the National Guard, which would have significantly protected the lives of police officers.
As a result, hundreds of cops have been hospitalized while quelling riots. Instead of condemning violent looters and criminals, the mayor has promised to defund the police and shift those resources to social justice causes.
It appears this move is the last straw from many New York police officers. After suffering from a lack of support for years, they view de Blasio's move as an attack on their organization. With fewer funds and support, the police will be subject to more crime and greater violence.
With many being injured, this group of 600 just might be concerned for their lives and families.
Key Takeaways:
After allowing riots to ravage the city, New York Mayor de Blasio is defunding the police.
Six hundred cops are considering leaving the force out of protest.
This comes after years of neglect by the mayor, who cops accuse of abandoning the NYPD.
Source: Washington Examiner, Washington Examiner