Trump Turns The Tables On Obama And Schiff – Shows Evidence That Barry Withheld Aid 'From Many Countries'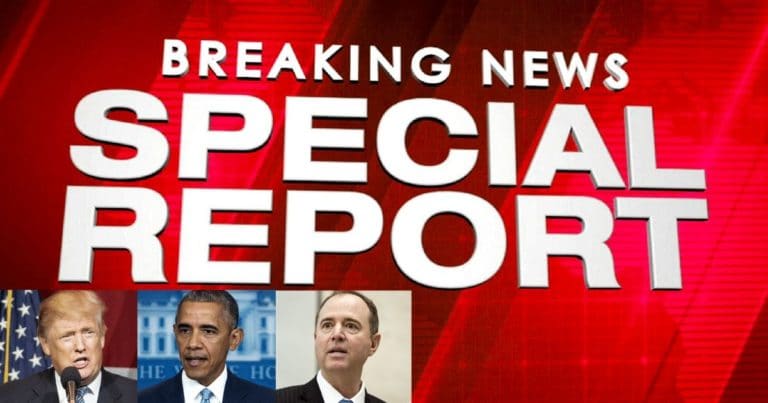 The Senate impeachment trial is still going on today. Donald Trump called out Adam Schiff on one of his opening arguments to the Senate.
If you didn't get a chance to listen to Schiff's extra-long monologue (we don't blame you), here is a rundown. The Democrat once again accused Trump of withholding aid from Ukraine.
Seems like Schiff is ignoring that Trump did release the money (without anything in return) ahead of the deadline.
Apparently, the Democrats are still not satisfied.
So, Trump unloaded, not just on Shifty Schiff, but on Barry himself.
From Twitter: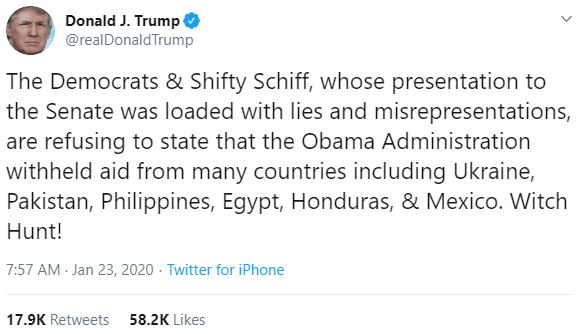 The Democrats & Shifty Schiff, whose presentation to the Senate was loaded with lies and misrepresentations, are refusing to state that the Obama Administration withheld aid from many countries including Ukraine, Pakistan, Philippines, Egypt, Honduras, & Mexico. Witch Hunt!
President Trump turned Schiff's presentation upside down. He said he loaded it with lies and misrepresentations.
He then reminded the world of the many times Obama refused to send aid to other nations. On many occasions, Obama withheld aid from Ukraine, Pakistan, Phillippines, Egypt, and more.
Nobody said boo then, right?
In fact, Trump retweeted Sen. Blackburn's detailed list of the countries (and amounts), Obama apparently denied.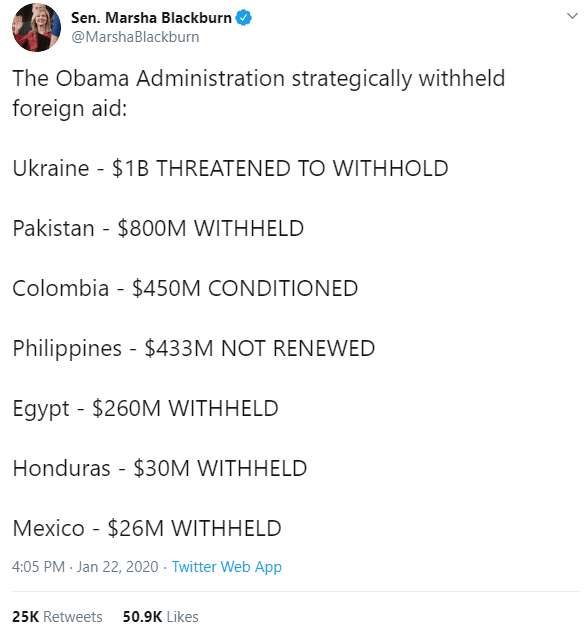 Seems like many times, according to Senator Blackburn, President Obama withheld hundreds of millions to billions of aid from foreign countries. Often there were conditions attached to the aid.
We never saw anyone complain about that. Nor did Republicans or Democrats use that as grounds of impeachment.
President Obama "strategically" withheld aid one many occasions. Everyone said it was fine.
Even though one of the times, Vice President Biden withheld $1 billion to get someone fired. He even bragged about it on video years later.
Trump withheld aid to Ukraine over serious concerns.
There were concerns about corruption in the Ukraine government. President Trump also was concerned that other nations had yet to send promised aid to the country.
Yet we are wasting time and tax dollars on an impeachment over this.  Insane if you ask me.
SHARE to make sure everyone sees what Obama and Biden did!