Obama Should Be Sweating Now – President Trump Drops New Federal Evidence On Barry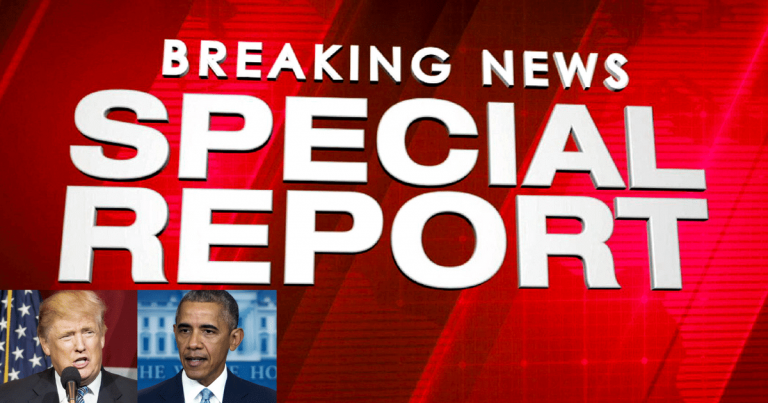 'The Donald' is finally closing in!
Over the last few months, damning evidence of collusion has been piling up. But not against President Trump.
Obama, Clinton, and many others had a hand in investigating Trump's campaign in 2016. Even after the election, we've learned Obama's DOJ and FBI were effectively spying on Trump and his people.
These folks should be getting very nervous right about now. Yet only a few media outlets are even talking about this.
One of the few sharp commentators is Tucker Carlson. And the president just rocked the Left with his statement.
From Twitter: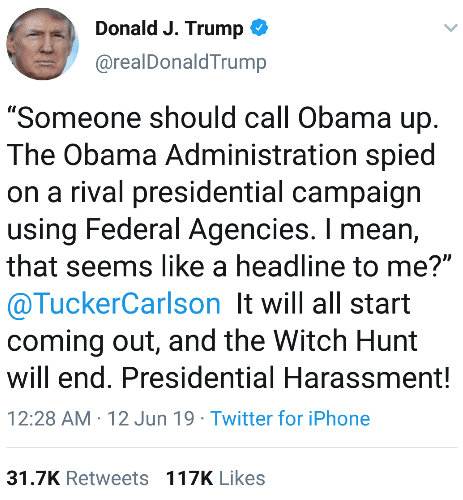 "Someone should call Obama up. The Obama Administration spied on a rival presidential campaign using Federal Agencies. I mean, that seems like a headline to me?" @TuckerCarlson It will all start coming out, and the Witch Hunt will end. Presidential Harassment!"
Go get him, Trump – that's what we've all been waiting for!
President Trump quoted Tucker Carlson when he talked about the Obama administration and their spying on the Trump campaign.
Evidence is mounting that Obama allowed the DOJ to use a bogus dossier to acquire a warrant to monitor Trump.
The warrant, you have to believe, was acquire based on faulty information. So, it was a deliberate attempt to take down Trump's campaign.
Obama, probably in an attempt to help Hillary Clinton, used federal agencies in order to prevent Trump from winning.
That's definitely headline news. Yet the mainstream media doesn't talk about it.
But Trump's promising it will all start coming out. This ridiculous Democrat hunt will end. The Democrats will get nothing.
And those who tried to destroy our democracy and steal the election will have to face the music.
You can't try to prevent Americans from having their say and get away with it forever.
SHARE if you're ready to see all those involved go down!
Source: Twitter