Ohio Governor Hit With Impeachment Articles – GOP Lawmaker Claims He Has Committed "Abuses Of Power"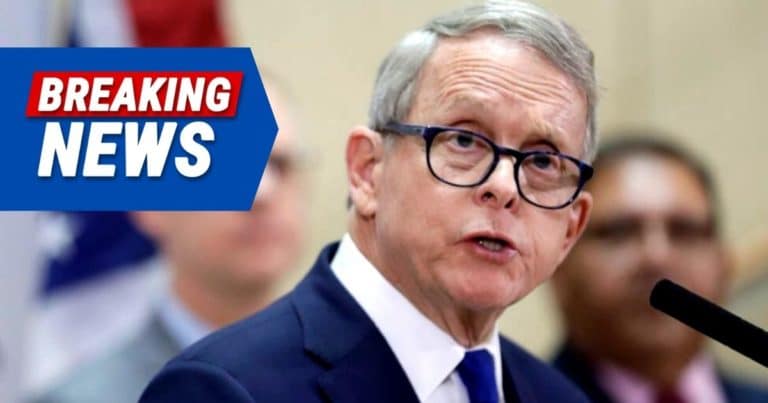 When the pandemic hit, lawmakers and politicians scrambled to react. Some were stricter than others in their passing of health-related mandates.
And some may have gone too far, according to Republicans. That's why we're seeing complaints of "abuse of power."
Take Ohio, for instance:
State Governor Mike DeWine is now facing articles of impeachment, put forth by GOP lawmaker Rep. John Becker.
Becker claims DeWine's response to the epidemic – which included a statewide face mask mandate – qualified as overstepping.
From Breitbart:
Ohio House of Representatives member Rep. John Becker (R-Union Township) has drafted articles of impeachment against governor Mike DeWine over his response to the coronavirus pandemic…
Becker believes that many Ohio residents simply don't agree with DeWine's behavior, and claims they want "the general assembly to take control."
The GOP representative adds that DeWine's ongoing mask rule hurts the state economy as well:
With deaths and hospitalizations from COVID-19 flattened, the Governor continues to press his boot on the throat of Ohio's economy.
All told, Becker filed 10 articles of impeachment against the Governor. And he's currently supported by a pair of other conservative lawmakers.
Ohio Speaker of the House Robert Cupp didn't say he was on board with impeachment, but he did voice his "overreach" concerns.
Said spokesperson Taylor Jach:
The Speaker shares the concerns of many members of the caucus regarding executive branch overreach, in particular with respect to some of the health orders that have been issued, and he has voiced those concerns directly to the governor.
Governors around the country continue to face heavy scrutiny in their response to the pandemic.
They're trying to balance the best interests of their states; both from a health and economic point of view. And it isn't easy.
But many citizens claim certain governors and politicians have overstepped their bounds.
As such, we may see many more lawsuits before the epidemic is finally over.
Key Takeaways:
Ohio Governor Mike DeWine is facing possible impeachment.
GOP Rep. John Becker has filed 10 articles of impeachment, citing "abuse of power" behavior.
Becker claims that with the pandemic lessening, the Governor continues to choke the state's economy.
Source: Breitbart