Omar Tries To Blame Border On Trump – Then Fact Checkers Set Her Straight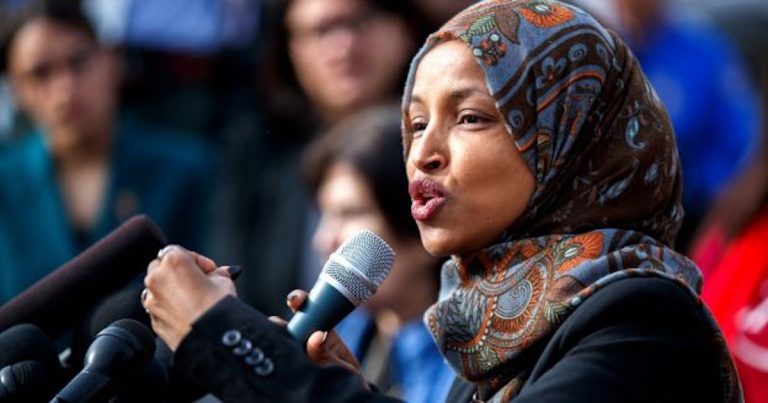 Fact checkers usually help out Democrats, but not this time…
Lately, many top Democrats have taken to blaming the Donald Trump administration for our border problems.
First, they denied it even existed.
But when they couldn't ignore the shocking numbers any longer, they did the only thing they know how to do:
Turn around and dump it in President Trump's lap. Or they go after his administration in general.
That's what Rep. Ilhan Omar (D-MI) did during a recent interview on PRI's "The World."
Here's part of her utterly clueless accusation (via Townhall):
"We have to look at our immigration process through a humane lens and what this administration is doing really truly is inhumane and extremely unAmerican and it goes against our values."
Omar's the LAST person in this country who should be lecturing citizens on what American values are. That's first.
But perhaps her biggest mistake is right here:
Omar went on to say those coming to our border are "seeking asylum" and "there's nothing illegal about seeking asylum."
Like most totally ignorant Democrats, she actually believes that most – if not all – the people jumping our border are seeking asylum.
That isn't even remotely accurate, as any border official will tell you. Furthermore, even if they were asylum seekers, there's one important fact Omar is missing:
"…they're supposed to seek asylum in the first safe country they land in.

For those who rode the caravan from Central America, the first safe country for them would be Mexico.

Legally speaking, they should be seeking asylum in Mexico, not the United States."
But of course, that's only in regards to asylum seekers, and most oncoming individuals are NOT asylum seekers.
They're simply showing up where asylum-seekers are required to cross, and they don't care in the slightest if they're caught.
These people are well aware of our broken "catch-and-release" system, so they just get released in the U.S. and never bother to show up for their court date.
Omar is wrong, wrong, wrong:
She's wrong about what she views as our "values," she's wrong about how the asylum seeking process works, and she's wrong that most or all of the people coming here are asylum-seekers.
No surprise that she's wrong, though. This woman is clearly not qualified to hold elected office in this country, period.
SHARE if you think Omar should RESIGN immediately!
Source: Townhall