Omar's Campaign Closet Swings Wide Open – Fresh Records Show Her Husband's Firm Was Mostly Funded By Her Campaign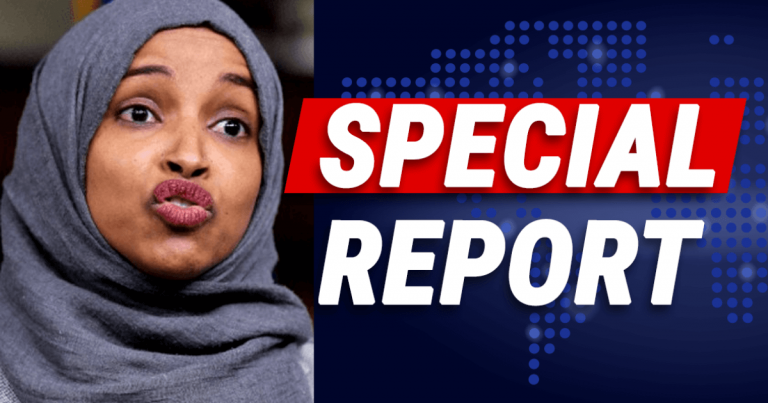 What's Happening:
We all know about infamous squad member Ilhan Omar. Despite her overall low approval back home, the Democrat keeps getting elected.
Perhaps it's because the media has worked overtime to hid news about her many problems? Frequently, her actions—both personally and professionally—have sparked inquiries within the House.
But Democrats under Nancy Pelosi, as you can imagine, keep giving her a pass.
One of the most concerning episodes in this socialist's career has revolved around her new husband. She was paying his firm for "consultation" work, but quickly stopped after it attracted attention.
It looks like more was going on than we realized. From Free Beacon:
Rep. Ilhan Omar's (D., Minn.) campaign payments to her husband's firm accounted for nearly 80 percent of its cash haul during the 2020 elections, federal filings show.

The E Street Group, a D.C. consulting firm owned by Tim Mynett, Omar's husband, and his partner Will Hailer, received $3.7 million from political committees this past cycle. Omar's campaign was by far its biggest moneymaker, doling out 146 checks for $2.9 million, or 78 percent of the firm's payments…

Omar's payments to E Street constituted a large part of her campaign expenditures.
According to filings, Omar's husband's company was largely kept afloat thanks to Omar's campaign. Eighty percent of their business came from her campaign cash.
On top of that, most of her expenses during the 2020 campaign were payments to this firm. She provided $2.9 million to E Street Group, 56% of the campaign's costs.
We're not sure just what this firm was doing for the congresswoman's campaign. Nor can we say for sure just why her campaign was providing so much money for what they have said it provided.
She pushed back after questions arose over the situation. Omar even claimed it was "stupid" to cut ties with her husband's firm. M-hm, stupid, as in "stupid to stop this gravy train from flowing"?
But after saying that, she suddenly cut ties with the firm. Only after it came to light did she claim it looked bad that she was paying her husband millions.
And on top of that, this firm also took more than half a million from relief funds from the government, meant for small businesses suffering during the pandemic.
Dang, this Mynett guy really knows how to cash in.
While there is nothing illegal with a politician hiring a family member for their campaign, Democrats do it an awful lot. And often, there is little justification for the huge sums of money they pay to their spouses, children, or siblings.
Was Mynett's contributions really worth millions? Or was something else going on?
Key Takeaways:
Ilhan Omar contributed millions to her husband's firm in campaign funds.
It comprised 80% of the company's 2020 revenue.
Omar had previously refused to cut ties with the firm, despite questions being raised.
Source: Free Beacon