Op: Hours After Fauci Seems To Blame Trump – Donald Fires Out Retweet That Should Have The Doctor Sweating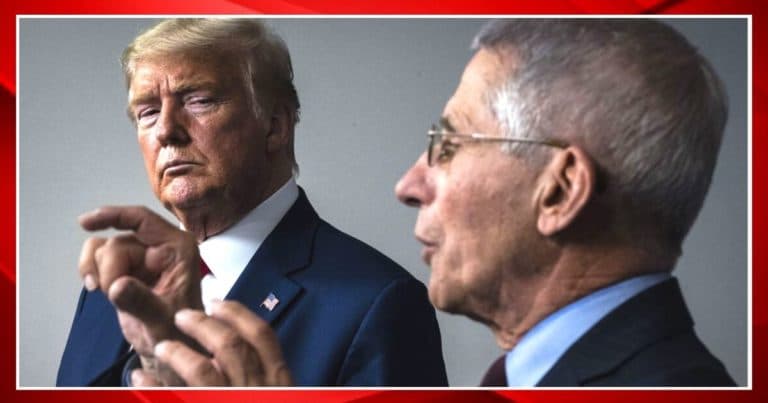 Note: the views, thoughts, and opinions expressed in this article belong solely to the author.
Dr. Fauci has been a key advisor for the president during the virus outbreak. But something he said recently may have crossed a line. For weeks, Fauci has backed the president's response to the crisis.
He has frequently commended Trump for closing the border to China early on (he even said that saved American lives). But it looks like he's starting to play the "what if" game—framing history to make it sound like the president acted too slowly. So, Trump is subtly sending him a big warning that might have Dr. Fauci sweating for his job.
From Fox News:
President Trump sparked speculation about his relationship with the country's top disease expert Sunday night after he retweeted a post that called for the doctor's job.

Fauci, the director of the National Institute of Allergy and Infectious Diseases, was asked about the report on CNN and admitted that earlier action could have saved more lives. The Times' report said Trump played down the seriousness of the virus throughout January.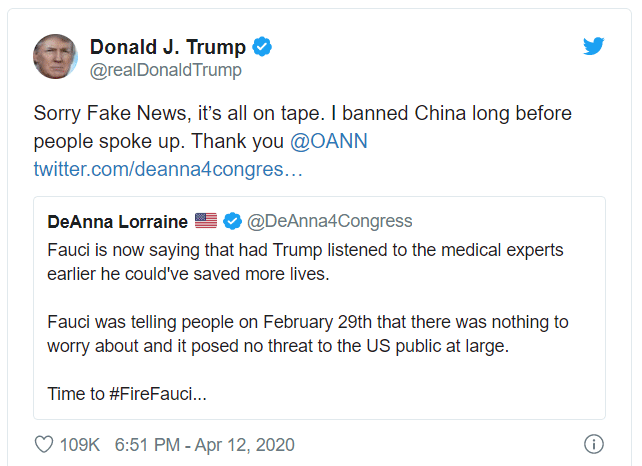 Uh-oh. In response to some criticism Fauci made on CNN about Trump's response, the president retweeted out a message from DeAnna Lorraine, who is running against Nancy Pelosi in California, with the hashtag #FireFauci.
The doctor had just appeared on CNN saying Trump played down the threat of the disease earlier in the year.
We do know that Trump took serious heat in January for shutting down travel from China. It seems he was far more worried about this disease than most people.
And according to Lorraine, it was Dr. Fauci who, as recently as February 29, downplayed the threat. Back then, he even encouraged Americans to go about their normal lives.
But by March, he was pushing extreme social distancing measures and lockdowns that have paralyzed our economy.
Fauci once applauded Trump's response. But more recently, he has contradicted the president and his approach.
Why is he now criticizing the man who is leading the fight?
Could this be because Trump is talking about reopening our country "sooner rather than later"? Dr. Fauci was the man who just last week said America's economic suffering is "inconvenient."
Sorry, doctor. But shutting down the country was more than inconvenient. It has been devastating for millions of people.
Maybe he wants us shut down for much longer? Maybe he doesn't like the president putting the economy ahead of the worries of government flunkies and poor hospital managers?
Who knows why exactly Dr. Fauci is now saying Trump ignored his warnings months ago. That doesn't seem to be what happened, as far as we know.
If Dr. Fauci keeps talking this way, should he still be advising the president? There are many medical experts in this country. And many economic advisers that can help us return to normal.
Why this one man make decisions for the nation? We didn't elect him to the White House!
Should Trump fire Dr. Fauci?
UPDATE: The official word from the White House, for now, is that Dr. Fauci's job is secure. From the Wall Street Journal:
"This media chatter is ridiculous—President Trump is not firing Dr. Fauci," spokesman Hogan Gidley said. He added: "Dr. Fauci has been and remains a trusted advisor to President Trump."
What do you think, folks? Should President Trump trust Dr. Fauci?
SHARE and comment below.
Source: Fox News, Wall Street Journal