Opinion: The Schiff Nadler Civil War Spills Out – Impeachment Could Be Crumbling Before Our Eyes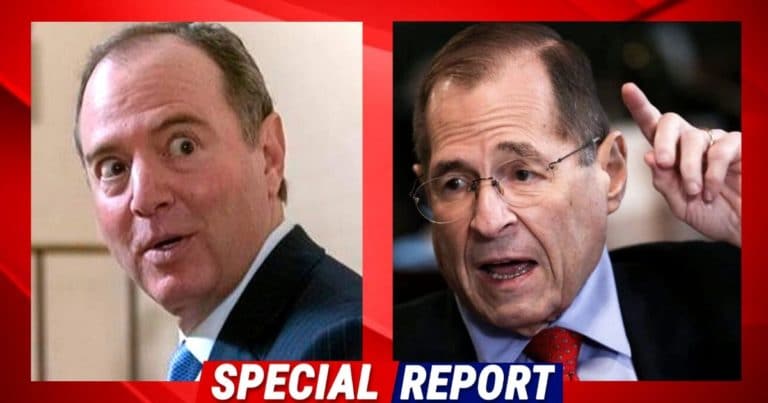 There was a big dust-up after Jerry Nadler accused Senate Republicans of a "cover-up." It resulted in a formal rebuke from Chief Justice Roberts himself.
Looks like Nadler wasn't the best choice to be sent in for this Senate trial. And it seems we're not the only ones thinking that.
It turns out there have been a few hints over the last 24 hours that Schiff is not happy with Nadler.
From Roll Call:
Schiff spoke for about four minutes about the rules for the impeachment and then asked for questions from the reporters surrounding them.

But Nadler stepped in in what appeared to be an unplanned moment.

"Let me add something here," Nadler began as he adjusted the microphone. He went on to repeat talking points Schiff and other Democrats have made.
Interesting. Someone asked Schiff a question, but Nadler stepped in—sounds like he's not happy Schiff is running the show (and neither are we).
That must have not gone over well. Why?
Because Schiff later cut off Nadler, preventing him from talking to the press.
The second day of the trial we saw and heard little from Nadler. Could Schiff be realizing that Jerry was a back pick for the team?
(It's not as if Schiff is doing a better job at accusing Trump.)
We could be looking at the start of an impeachment breakdown.
First, Nadler makes unsubstantiated accusations against the Senate, the very people he is trying to convince to vote against Trump.
The next day, Adam Schiff speaks for hours on his Trump theories. The more he talked, the less Republicans were convinced Trump deserves to be removed from office.
I wouldn't be surprised if both Democrats are accusing each other of screwing this up.
Hey, guys, it's okay. There is enough blame to go around.
After all, you launched an impeachment against a winning president over non-crimes. The only way this plays out is with a complete acquittal of Donald Trump.
They are seeing that only now and are the cracks are showing in Team Impeachment.
SHARE to tell everyone that the Impeachment Democrats are falling apart!
Source: Roll Call