After Paul Ryan Insults Trump – Donald Drops His Presidential Hammer On The Washed-Up Speaker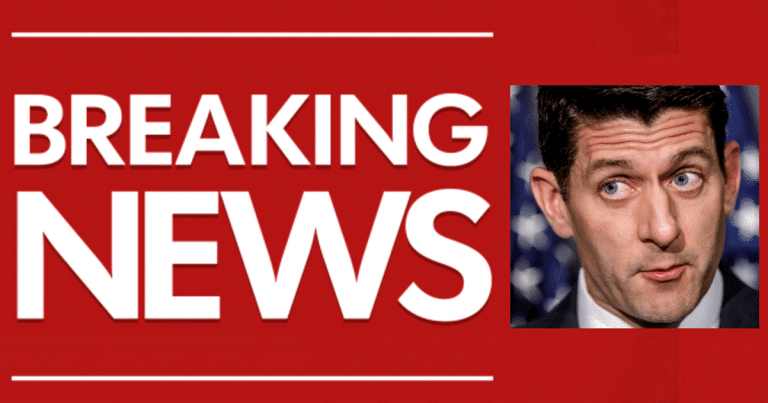 Trump didn't let the former Speaker get away with it!
Former Speaker of the House Paul Ryan had a pretty bad run in Congress. He gave up the Republican majority, letting Nancy Pelosi and her gang of liberals take over.
But apparently, he's not done sabotaging his former party. Ryan came out of retirement to be quoted in a book.
In it, he throws Donald Trump under the bus.
Oh really, Ryan? You let down the American people, squandering a vital majority, only to bash the one guy doing his job?
As you can imagine, President Trump let loose on the former politician.
From Fox News:
Fast forward to this morning when Trump was asked about this by a reporter. He unleashed on Ryan in a very Trumpian way:
Woah. Trump slams Ryan, calling him untalented. He even mentioned a time when he invited Ryan on stage during a rally—and the massive crowd booed him!
Trump's response is brutal, but Ryan 100% deserves it. He served in Congress for years—and what did he accomplish?
Next to nothing. The only big victory he scored was by getting the tax cuts bill passed in the House—and that was a Trump initiative.
Ryan promised to get rid of Obamacare—and failed. He was one of few conservatives actively against the border wall.
While Republicans had a majority in both chambers of Congress—and could have easily passed border wall funding—Ryan did nothing.
The struggles we have today at the border are entirely his fault.
And he dares slam Trump—from the safety of another man's book? Talk about pathetic.
Today, Trump has a mile-long record of accomplishments after only two years in office. He's poised to continue to save this nation for the next six years.
Ryan, on the other hand, left Washington a disgrace and a failure.
I know whose side I'm on.
SHARE if you agree with Trump—Paul Ryan was a failure!
Source: Fox News