After Pelosi Submits $3T Partisan Relief Bill – Mitch McConnell Fires Back, Calls It "Dead On Arrival"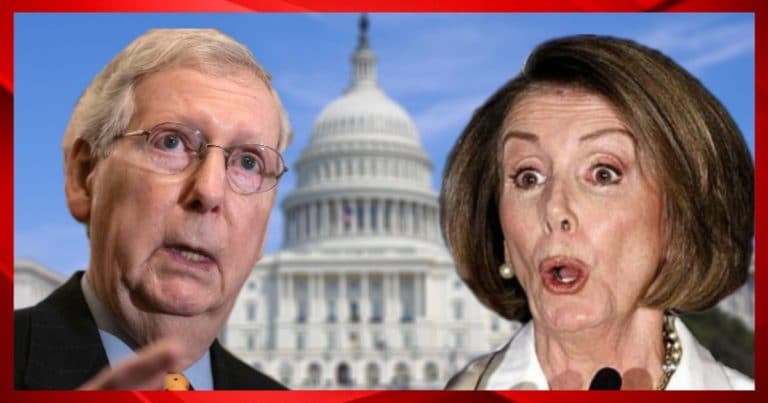 What's Happening:
Not long after Democrats submitted a $3 trillion coronavirus bill, which Democrats allowed little to no input from Republicans, the GOP declared it "dead on arrival."
Senate Majority Leader Mitch McConnell condemned the bill drawn up by Nancy Pelosi and other Democrat politicians:
What you've seen in the House [from] Nancy is not something designed to deal with reality, but designed to deal with aspirations.

This is not a time for aspirational legislation, this is a time for practical response to the coronavirus pandemic.
Republican Senator John Barasso took it a step further, swearing that the House Bill would "never pass the Senate."
Why It's Important:
Republicans have issues with many of the elements included in that $3T relief bill.
For example, the proposed relief package includes stimulus payments for certain undocumented individuals, as well as more stimulus payments and hazard pay for essential workers.
No. 2 Republican Sen. John Thune said that in fact, the bill wasn't designed to pass — it's nothing more than a "messaging exercise":
It wasn't a sincere effort, or meaningful effort, to address a crisis that is being faced by the American people, but it clearly is an effort to try and create talking points for the 2020 election.
In response to the Democrat bill, McConnell and Sen. John Cornyn (R-Texas) are working on their own bill.
We don't have all the details on that proposal just yet, but it should contain liability protections for employers, which McConnell called a "red line."
But no matter what, Republicans and Democrats will have to arrive at a mutual agreement if a fifth pandemic bill is to pass.
At the moment, it appears highly unlikely that the GOP will allow the latest Democrat offering to pass. Which means America may have to wait on the fifth bill (if it happens at all).
Key Takeaways:
The GOP calls the $3 trillion Democrat relief bill "dead on arrival."
Republicans denounce the bill as a "messaging exercise" and vow that it'll never pass the Senate.
The two sides remain far apart on an agreement for a fifth aid bill, and we're not likely to see a finalized bill before Memorial Day.
Source: The Hill