Nancy Pelosi Just Triggered China – Eastern Media Send the Speaker a Warning After Reports Claim She Will Head to Taiwan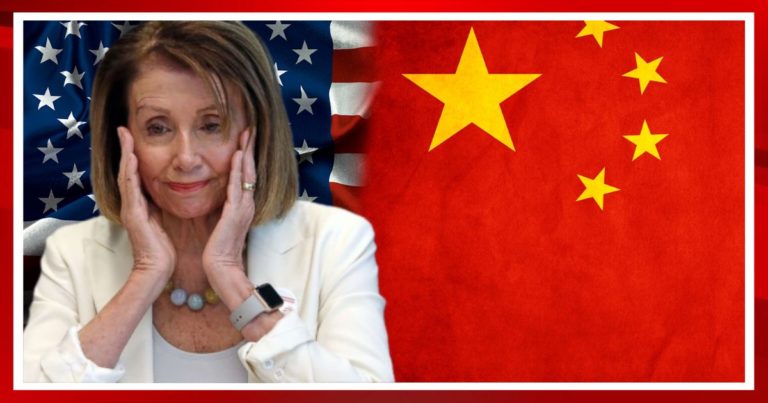 What's Happening:
For reasons known only to her, Nancy Pelosi is visiting parts of Asia this week.
The Speaker (who is soon to lose her gavel) made waves by suggesting she will visit Taiwan.
Those plans have remained unclear, until now. From CNN:
US House Speaker Nancy Pelosi is expected to visit Taiwan as part of her tour of Asia, according to a senior Taiwanese government official and a US official, despite warnings from Biden administration officials, who are worried about China's response to such a high-profile visit.
I guess Pelosi cares as much about Biden as the rest of the country. China, though, is not happy.
From Fox News:
"Let her go to Taiwan. But pray before departure: wish herself a safe journey and wish herself not be defined by history as a sinner who starts a spiral of escalation process expanding military frictions to a large-scale war in the Taiwan Strait," the former Global Times chief editor said.
You know, if we did have a war with China, I would have assumed it'd be started by Nancy Pelosi.
Official word from Taiwan as well as a U.S. official state that Pelosi will be visiting the country during her Asia tour.
China responded with a strong statement. In no uncertain terms, they warned that Pelosi's actions could trigger a "spiral of escalation" that would lead to a "large-scale war."
Now, I know Pelosi is a generally disliked person, but "large-scale war"? Could anything she said or did in Taiwan really spark a war?
We can't but help thinking that, if Trump were president, China wouldn't even dare post this kind of threat.
But with China Joe in the White House, the communist country is free to say or do anything it likes, it seems.
Pelosi, for her part, doesn't seem concerned about the ramifications of her actions. It seems like she's spent too much time in D.C., where so many people bow to her whims.
She's never had to face the consequences of her poor decisions. Perhaps she even thinks she "has" to stand up to China right now.
We know that nations like China like to make big boasts like this—but the last person qualified to confront them is a compromised leftist with the worst approval among D.C. leaders.
Key Takeaways:
Officials confirm Nancy Pelosi will visit Taiwan during her Asia tour.
China made strong threats against Pelosi's visit, even claiming to start a war.
One official even suggested shooting down Pelosi's plane if it flies into Taiwan.