Pelosi's Husband Could Be in Serious Trouble – He Just Got Charged and Could Get Jail Time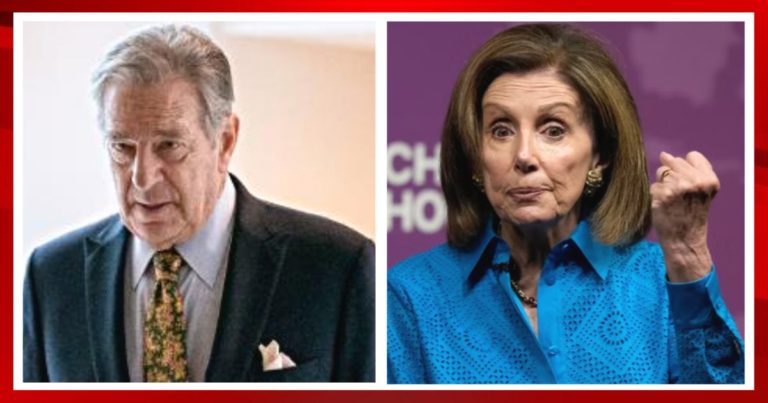 What's Happening:
It came out a few weeks ago that Paul Pelosi, Speaker of the House Nancy Pelosi's husband, was arrested after getting into an accident in Napa County.
About two weeks later, his mug shot was released and we learned he had committed a DUI. Not much came out after that and some could have assumed the worst was over.
Not quite.
From The Post Millennial:
House Speaker Nancy Pelosi's husband, Paul Pelosi, 82, has been criminally charged and may face jail time over his recent DUI arrest last month in Napa County, California.

Paul Pelosi has been charged with Driving Under the Influence of Alcohol Causing Injury, and Driving with .08 percent Blood Alcohol Level or Higher Causing Injury, according to TMZ.
After the noise of Pelosi's arrest came out, it seemed like the case would be swept under the rug. But we are now learning that Paul Pelosi is being charged with a DUI and driving with a .08 blood alcohol level or higher.
It appears that, if convicted, Pelosi could face jail time. While driving under the influence, he crashed into another car.
No reported injuries are known, but he was arrested at the time.
Soon after the news hit, Nancy Pelosi's office released a statement revealing she was on the "East Coast" at the time of the incident.
Speaker Pelosi has said very little concerning the crime and arrest. It's unclear how this news will affect her ongoing role in Congress and upcoming re-election.
In recent years, Pelosi has moved further left—fearing progressive competition in her San Francisco district.
Do you think Paul Pelosi should get special treatment in this case as the Speaker's husband?
Key Takeaways:
Paul Pelosi, Nancy Pelosi's husband, is being charged over his DUI crash.
The charges, if convicted, could result in jail time.
Pelosi has distanced herself from the event, saying she was on the East Coast.
Source: The Post Millennial