After Pelosi Passes Out Impeachment Pens – Ted Cruz Tells 'Circus Nancy' She Should Have Used Crayons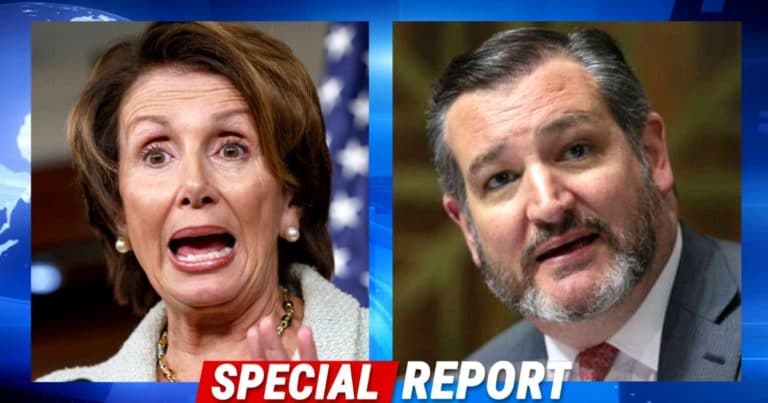 Nancy Pelosi must really think we're stupid, huh? She claimed she didn't really want to impeach Donald Trump.
She said it was her "urgent" responsibility. When the House voted on their sham articles, she even wore black… as if it were a funeral.
Like we're buying that schtick. Pelosi forced through her shampeachment in the hopes of helping the Democratic 2020 candidate.
When she signed the articles over to the Senate, she wore a garish pink outfit. She was seen smiling like an idiot. And, to top it all off, she gave out golden pens with her name on them.
Right, really solemn, lady.
Sen. Ted Cruz called out the Speaker. He told her what she should have really used.
From Fox News:
House Speaker Nancy Pelosi drew criticism Wednesday for handing out commemorative pens — with her name on them — after signing a resolution to transmit two articles of impeachment against President Trump to the Senate for trial.

To critics, the tone of the event seemed celebratory…
Ted wasn't putting up with it for a second:
Given the circus in the House, I'm surprised she didn't use crayons. 🎪 🖍 🎪 https://t.co/hGTIGvb2Ey

— Ted Cruz (@tedcruz) January 16, 2020
Ted Cruz slammed Pelosi and House Democrats, saying they should have used crayons.
Sounds about right. Pelosi has made a mockery of our government. She took a serious issue—impeaching the duly elected President of the United States—and turned it into a circus.
She is trying to remove Trump from office, simply out of political motives. Pelosi is even celebrating her sham of an impeachment, with gold pens!
Do Democrats think our country is a joke? Do they think they can play with our Constitution, like a game?
It seems so. They are so delusional, they think they can impeach Trump over non-crimes. They think we're going to sit back and let them win.
She'll soon find out that Americans are not buying her little game.
SHARE to tell Pelosi her impeachment is a joke, not a victory!